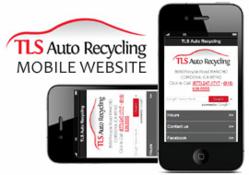 Bringing TLS at Finger Tips.
Sacramento,CA (PRWEB) May 10, 2012
Smart phone usage in the U.S. has increased exponentially since 2010. Currently standing at over 100 million users, the population of the U.S. using smart phones is projected to reach almost 200 million users by 2016, according to http://www.statista.com. Sixty percent of those users are "shopping on the go" and "showing a preference for mobile sites over apps," according to thenextweb.com.
With these statistics in mind, TLS is introducing a new mobile website, set to launch on Monday, May 10. This website reinforces TLS's priorities of customer satisfaction and market customization. TLS's mobile website will utilize a customized Google search engine to provide the best possible search results to its customers. The website will make it even easier for patrons to shop TLS's catalog and will place purchasing power right into the consumer's palm. As such, TLS Auto Recycling is poised to expand even further and become a more dynamic and flexible business with the introduction of this mobile website.
About TLS Auto Recycling:
With a staff boasting a combined experience of over 70 years in the dismantling and recycling industry, TLS Auto Recycling is at the forefront of the northern California auto recycling business. Specializing in auto parts for the Toyota, Lexus, or Scion driver, TLS Auto Recycling is renowned for its high rate of client satisfaction and customer-oriented business philosophy. A leader in the green industry and in environmentally friendly business practices, TLS uses only clean and undamaged parts that undergo rigorous in-house testing.
Contact Information for
George Trunyan
TLS Auto Recycling
george(at)alltoyotalexusparts(dot)com
(877) 247-1717
http://www.alltoyotalexusparts.com