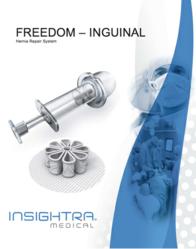 "We have seen a marked reduction in operating time with a simple procedure which has shown to reduce pain dramatically and allow a very fast return to normal activities for patients."
Irvine, California (PRWEB) May 02, 2012
Insightra Medical, Inc. announced the commercial release of the next iteration of the Freedom Inguinal Hernia System, containing the revolutionary ProFlor™ 3D dynamic hernia implant. The newly approved system adds a slimmer disposable delivery device and new kit configuration to improve surgeon convenience.
The ProFlor™ implant, a polypropylene prosthesis which is compressed, then released into the hernia defect and "self grips", thereby eliminating the need for any form of fixation. This revolution removes the risks and pain associated with tissue entrapment caused by placing sutures to hold conventional meshes and plugs in place. Clinical trials are demonstrating that the elimination of fixation is leading to much less pain post operatively.
"We are extremely pleased with the clinical experience to date," says Prof. G Petrella of the Policlinico Tor Vergata of Rome. "We have seen a marked reduction in operating time with a simple procedure which has shown to reduce pain dramatically and allow a very fast return to normal activities for patients."
The University of Tor Vergata is undertaking a clinical study of ProFlor and hopes to publish the results in early 2013.
Besides being fixation free, the ProFlor™ implant creates an improved healing by not allowing the scar to shrink and become hard. The dynamic implant has been shown experimentally to create elastic tissues, blood vessels and other components that normally make up the abdominal wall. This research was recently published in the Journal of Artificial Organs.
"A key to the adoption of this new technique is in the simplicity of the surgical procedure." Says Prof Venditi from the Policlinico Tor Vergata. "The combination of a fixation-free implant and special delivery device (like a giant syringe) means that less dissection is required and smaller incisions directly above the hernia can be made."
The second generation of ProFlor™ kit brings the advantages of a ready to use sterile delivery system, a unique part of the procedure. The new design is lighter, slimmer and easier for the surgeon to load prior to delivering the implant. The product is fully commercially availablea cross the EU, and surgeons from across the world are being trained at the International Hernia Training centre of PTV in Rome under the direction of Prof Petrella and Prof Venditi.
Surgeons wishing to learn more about this new procedure, or attend training courses can contact Insightra directly: info(at)insightra(dot)com
About:
Insightra Medical Inc. (http://www.insightra.com) is a privately owned medical device company with global headquarters in Irvine California. With a deep focus on innovation through rapid R&D, they bring new medical devices to the fields of general surgery, endoscopy, cardiology, cardiac surgery and women's health.