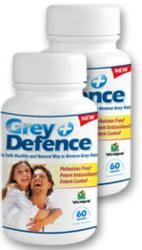 The #1 Grey Hair Reversing Pill With Enteric Coating
(PRWEB) May 01, 2012
COORGA Nutraceuticals Corporation is pleased to announce it is now making Grey Defence® – The #1 Grey Hair Treatment Pill With Enteric Coating available for in-licensing. COORGA Nutraceuticals Corporation has identified 52 key countries in Europe, Asia and the Americas where it seeks in-license distribution partners.
Grey Defence® is a proprietary blend of vitamins, essential amino acids, antioxidants and enzymes that works by chelating and decomposing hydrogen peroxide in the hair bulb that bleaches and damages hair follicles. It also boosts key melanin producing compounds required by the body. Hydrogen peroxide is produced by the body's natural metabolic activities. Over time it accumulates due to aging and/or periods of prolonged stress resulting in hair follicle being bleached white while they grow (this is why US Presidents tend to go completely gray within a few short years of taking office). The final effects of prolonged usage of Grey Defence® (9 to12 months) is the complete reversal of grey hair.
This opportunity to in-license Grey Defence® is timed to coincide with the release of the second generation of the product scheduled for the third quarter of 2012. This second generation Grey Defence® features higher levels of actives and an innovative liquid-filled enteric coated capsule delivering almost 40 times the potency of the current version of Grey Defence®.
Ideal in-license candidates will have strong, established distribution capabilities, including but not limited to warehousing and channel-direct sales force calling on pharmacies, supermarkets, mass merchandisers and health food stores. Potential partners must be experienced and sophisticated Nutraceuticals in-licensees able to independently conduct their own market analysis to determine the potential for Grey Defence® in their local markets and not be reliant on COORGA Nutraceuticals to conduct such analysis on their behalf. In addition, in-licensing candidates must possess the financial capacity to purchase inventory to satisfy out-license contract terms.
About COORGA Nutraceuticals Corporation
COORGA Nutraceuticals is a company focused on developing products for the anti gray hair market. The company also operates the Grey Hair University blog; a resource for those looking for information on what causes gray hair.