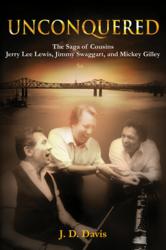 God, the devil, and everything in between.

- Leon Russell, legendary musician and Rock and Roll Hall of Fame member.
Dallas, Texas (PRWEB) May 02, 2012
New biography "Unconquered: The Saga of Cousins Jerry Lewis, Jimmy Swaggart, and Mickey Gilley" (Brown Books Publishing Group) by J.D. Davis of Dallas, Texas tells the story of Ferriday, Louisiana's most famous cousins.
A unique tale of American music set against the backdrop of the Depression-era American South, "Unconquered" explores the lives of famous cousins Jerry Lee Lewis, Jimmy Swaggart, and Mickey Gilley.
"After reading extensively about these men, visiting their hometown, and getting to know their family members, I realized there was a fascinating story to be told," says author J.D. Davis from his home in Dallas, Texas. "While much has been written about each of them—particularly about Jerry Lee Lewis—I found that no one had ever integrated their stories."
Born within a twelve-month period of each other, raised in the same time and place, with similar talents, the three cousins were fated for entirely different destinies even as their lives remain intertwined.
Drawing from exhaustive research and personal connections with friends and family, Davis provides readers with a fresh, eye-opening look at three men inseparably bonded by music and religion.
Born on March 15, 1935, Jimmy Swaggart—the Preacher—became one of the most successful gospel singers and televangelists of all time.
Born six months later on September 29, 1935 was Jerry Lee Lewis - the Killer. Lewis went on to become one of the earliest performers of rock 'n' roll, alongside Elvis Presley, and is among the original class to be inducted into the Rock and Roll Hall of Fame.
The youngest of the three cousins, Mickey Gilley—the Cowboy—was born on March 9, 1936. He has had seventeen number one hits and was part owner of Gilley's, the world's largest honky tonk.
An ardent fan, Davis spent several years researching the lives of these men for his book. "One of the highlights of this effort for me has been the forging of strong bonds and friendships with many of the people who are closest to these incredible men."
About the Author
J. D. Davis has been a fan of the music of Jerry Lee Lewis, Jimmy Swaggart, and Mickey Gilley much of his life. Davis was raised in Quitman, Texas, a quiet community in the piney woods of East Texas. A successful businessman and entrepreneur, he manages a large consulting practice. He has three daughters and lives near Dallas, Texas.