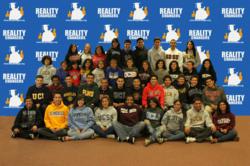 "Reality Changers is absolutely a model - not for the city, not for the state, but for the country." - U.S. Department of Education Secretary, Arne Duncan.
San Diego, CA (PRWEB) May 03, 2012
Reality Changers defy the odds of San Diego's inner city youth going to college and statements made by persons like Geraldo Rivera, Fox news commentator, in his "crusade to warn minority families of the danger to their young sons inherent in gangsta style clothing; like hoodies." He went as far as "urging the parents of black and Latino youngsters particularly not to let their children go out wearing hoodies."
"For Reality Changers students, the sweatshirt hoodie is not a symbol of fear, distrust, or racism. In fact, the hoodie for us means the exact opposite: success, accomplishment, and achievement. See, when our graduating students don their college sweatshirts for the very first time on May 20th at our 12th Annual America's Finest year-end event, that means that they have officially become the first members of their families to get accepted to college... and by increasing the levels of education in low-income, high-crime neighborhoods, these students are now poised to start extinguishing the fear, distrust, and racism that has plagued America's inner cities for decades," states Christopher Yanov, Founder and President of Reality Changers.
After working with gang members for five years, Founder Christopher Yanov felt that it was just not right that most inner-city teenagers today know more people who have been shot or killed in the street than people who are on the road to college.
As a response, Reality Changers began in May 2001 with four 8th grade students at the Hispanic Presbyterian Church near downtown San Diego with the hope of building first generation college students. Starting with just $300 to its name, Reality Changers has given more scholarship awards to college-bound students than any other single organization in San Diego County since 2006 and is the leading tutoring program in the state of California since June 2009.
"If we truly want to cleanse the generations of gang-related bloodshed spilled onto our sidewalks, then we must flood our inner-city streets with options and opportunities so that urban youth can become caught up in the rising current of high expectations, newfound leadership, and previously unimaginable realities," states Chris.
This year, Reality Changers will be celebrating 100+students graduating from their four year tutoring program. Five Reality Changers out of 19 students in San Diego County will be receiving the prestigious Gates Millennium Scholarship (GMS). GMS guarantees tuition to be fully paid for the student's bachelors, masters and PhD schooling at any college of the students choice.
Reality Changers' mission is to provide inner-city youth from disadvantaged backgrounds with the resources to become first generation college students by supplying academic support, financial assistance, and leadership training.America's Finest their signature year-end event will take place on Sunday, May 20, three pm at the University of San Diego's Jenny Craig Pavilion, 5998 Alcala Park, San Diego, CA 92110.
To learn more about Reality Changers, please visit their website at http://www.realitychangers.org or contact Marshela Salgado, Vice-President of Communications via phone at (619) 516-2219. For event updates, follow them on http://www.facebook.com/realitychangers.