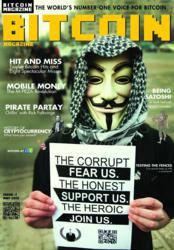 Every good cause needs a voice, but sometimes that voice can become so loud and diverse that it begins to sound like nothing but noise. Bitcoin Magazine cuts to the chord of the issues and speaks them in a voice that everyone can hear and understand.
Chesterfield, Derbyshire, UK (PRWEB) May 02, 2012
BitTalk Media sends to print the very first issue of Bitcoin Magazine, magazine dedicated to providing a neutral and balanced presentation of the Bitcoin world and beyond it, echoing the voice of Bitcoin, other crypto-currencies and peer to peer technology enthusiasts worldwide. Bitcoin Magazine is an industry standard 64 page glossy magazine, with an initial 5,000 issue run.
Subscriptions, single copies and bulk shipments can be ordered online at subscribe.bitcoinmagazine.net. Naturally, Bitcoin is one of the available payment options. US subscribers should receive their first copy of Bitcoin Magazine by the 16th of May 2012. Delivery time may vary for international subscribers.
About Bitcoin
"Bitcoin is an experimental new digital currency that enables instant payments to anyone, anywhere in the world. Bitcoin uses peer-to-peer technology to operate with no central authority: managing transactions and issuing money are carried out collectively by the network. Bitcoin is also the name of the open source software which enables the use of this currency", according to Bitcoin.org. Bitcoin software is a community-driven open source project, released under the MIT license.
About BitTalk Media Ltd.
Formed in 2011 by a group of Bitcoin aficionados and located in UK with workforce spread throughout the world, the company is the publisher of Bitcoin Magazine (http://bitcoinmagazine.net) read in print in over 45 countries, read online all across the world.