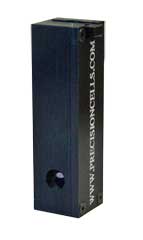 Farmingdale, NY (PRWEB) May 01, 2012
NSG Precision Cells, the leader in the cuvette industry is proud to announce the new trail-blazing Micro Focus Cell. After years of study and development the company presents a ultra micro cuvette that provides scientists and researchers an easy and cost effective solution to the intense demands of today's laboratory.
With over 50 years of expertise, NSG Precision Cells has perfected the Micro Focus Cell and it breaks down all barriers and offers laboratories the most innovative product on the market. With its unique features it not only supports all Z-Dimensions (8.5 mm, 15 mm, and 20 mm) but it can be used in any UV-VIS spectrophotometer.
The Micro Focus Cell is ideal for all applications where small sample size is needed. Likewise, it is the ultimate laboratory cuvette for taking various small samples like DNA, RNA, proteins and nucleic acid analysis. Furthermore, the Micro Focus Cell provides extreme accuracy, unmatched repeatability of analyses and a stress-free architecture.
Z-Dimensions
The Z-Dimension or center height is the distance from the bottom of the cuvette to the center of its sample chamber. For accurate samples it is imperative that Z-dimensions are identical to the height of the instrument's light beam especially with a cuvettes polished window that is very small. A small cuvette window is recognized by a cuvette that is entirely black aside from the aperture window. If the smaller volume is not placed in the center of the light beam then it is not properly masked and the sensitivity will be eroded. Depending on the manufacturer, Z-dimensions are typically 8.5, 15, or 20 mm. By having a micro cell that supports all sizes scientists and researchers can be assured that the cuvette is properly aligned. Moreover, having a Micro Focus Cell that embraces all sizes is very cost effective and increases the total amount of quality samples tenfold.
Features
The advanced Micro Focus Cell provides a vast array of features. Including the support of fitting all Z-dimensions as it needs no alignment. This is crucial for procuring high accuracy of samples. Equally, the incomparable optical design delivers perfect consistency of light passing through the entire sample.
With the fast and convenient access to the micro-sample chamber, researchers can easily retrieve their work. Furthermore, the sample holder is simple to remove and less likely to spill. Additionally, the Micro Focus Cell is uniquely designed with no caps. Scientists no longer need to screw and unscrew or disassemble and reassemble. This saves hours on labor preparation and thousands of dollars in expenses.
NSG's Micro Focus Cell is designed to fit the needs of all scientific and research facilities. The micro cuvette fits the standard 10 mm spectrophotometer cuvette holder and has an extreme small sample size of 1.9 microliters. As well, custom sample sizes are available down to <1 microliter and can be specially ordered to fit a laboratory's needs. In fact, NSG Precision Cells offers on demand shipment to qualified customers.
With superior reproducibility guaranteed by design, the Micro Focus Cell offers a sturdy architecture that delivers top performance and accuracy of samples. It has an unmatched wavelength range of 190-2,000 nm with a level of impurities close to zero. This range presents maximum durability and supreme accuracy. The micro cuvette is the ultimate solution for all laboratories that require precise samples and products that are reliable.
Irrefutably, NSG Precision Cells is the forerunner of the cuvette industry and is unmatched when it comes to quality micro cells. The Micro Focus Cell is the definitive tool for scientists and researchers who depend on precise samples and cost effective solutions.