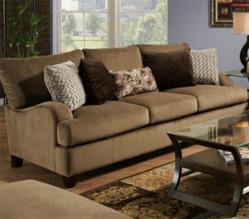 Providing videos of our products helps our customers make informed decisions, ensuring that they'll be happy with their purchase for years to come.
Golden, CO (PRWEB) May 03, 2012
Purchasing living room furniture such as sofas and sectionals is a serious investment in these tough economic times, so knowing exactly what you are ordering is important. According to Ryan Mallet at ContentPing.com, a recent survey of over 14,000 consumers showed that product videos increased consumer confidence and helped with their decision-making process. Consumers not only enjoy product videos, they are increasingly coming to expect them.
"People spending money on sofas or sectional seating need to be certain that what they are ordering online fits their style and taste as well as their budget," muses Peter Goldstein – VP of Sales for Sofas And Sectionals. "Providing videos of our products helps our customers make informed decisions, ensuring that they'll be happy with their purchase for years to come."
Viewing the videos on SofasandSectionals.com is simple and can be done in three ways. On the category pages, click on the small camera icon located on the lower left of the image. Or click on the image to see the product's individual page. Once there, click on the convenient "Product Video" button. Product videos are also available on the Sofas And Sectionals YouTube Channel.
Among the products featured in videos on SofasandSectionals.com are a line of three stationary and reclining sectionals from Franklin Seating.
Soho 809 uses no-sag springs made of durable and flexible 8-gauge steel. It also offers thickly padded, zipper-backed cushions and recessed arms which are especially attractive in a smaller room. The mortise and tenon construction adds strength while the tapered block feet give this line a clean and modern look.
The 542-15 Mink line of reclining sectionals offers the playful puffiness of your favorite down jacket in a sectional arrangement as comforting and warm as hot cocoa on a cold day. The metal locking joints and counter-balanced full recline offer strength and confidence while the drop-down table and storage drawer in the sofa gives exceptional convenience without sacrificing style.
Franklin Seating's 577-15 Chocolate line of reclining sectionals brings a whole new level of luxury to leather reclining sectionals. The extended, chaise-style footrests cradle long legs while making it easy for little ones to climb up and cuddle. This sectional comfortably seats six, and the console loveseat offers cupholders along with soft, plush padding on the arms and back.
About SofasandSectionals.com: SofasandSectionals.com is a division of InteriorMark, LLC, and a leader in ecommerce furniture. Their quality products include living room and bedroom furniture, home office furnishings, sofas and sectionals, home theater seating and curio cabinets. InteriorMark, LLC is a proud member of the Better Business Bureau and a member in good standing of the National Home Furnishing Association.