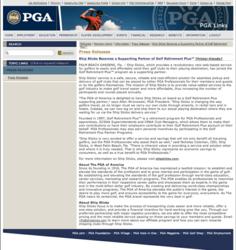 West Palm Beach, FL (PRWEB) May 03, 2012
Ship Sticks, which provides a revolutionary new web-based service for golfers to easily and affordably send their golf clubs to their playing destination, has joined the Golf Retirement Plus™ program as a supporting partner.
Ship Sticks' service is a safe, secure, reliable and cost-efficient solution for seamless pickup and delivery of golf clubs that can be placed by either PGA Professionals for their members and guests or by the golfers themselves. The mission of Ship Sticks is to provide value-added services to the golf industry to make golf travel easier and more affordable, thus increasing the number of participants and rounds played annually.
"The PGA of America is delighted to have Ship Sticks on board as a Golf Retirement Plus supporting partner," says Allen Wronowski, PGA President. "Ship Sticks is changing the way golfers travel, as no longer must we carry our own clubs through airports, in rental cars and in hotels. Instead, we can now log on and ship them to our actual playing destination where they are waiting for us via the Ship Sticks delivery service."
Founded in 1997, Golf Retirement Plus™ is a retirement program for PGA Professionals and apprentices, GCSAA Superintendents and CMAA Club Managers, which allows them to make their own contributions or have their employers contribute to their Golf Retirement Plus account on their behalf. PGA Professionals may also earn personal incentives by participating in the Golf Retirement Plus Partner Programs.
"Ship Sticks is very excited to offer a service and savings that will not only benefit all traveling golfers, but the PGA Professionals who assist them as well," said Nicholas Coleman, CEO, Ship Sticks, in West Palm Beach, Fla. "There is inherent value in providing a service and solution when and where it is truly needed. That is why Ship Sticks represents an economic savings to consumers, as well as a true benefit to PGA Professionals."
For more information on Ship Sticks, please visit shipsticks.com.
About The PGA of America
Since its founding in 1916, The PGA of America has maintained a twofold mission: to establish and elevate the standards of the profession and to grow interest and participation in the game of golf. By establishing and elevating the standards of the golf profession through world-class education, career services, marketing and research programs, The PGA enables its professionals to maximize their performance in their respective career paths and showcases them as experts in the game and in the multi-billion dollar golf industry. By creating and delivering world-class championships and innovative programs, The PGA of America elevates the public's interest in the game, the desire to play more golf, and ensures accessibility to the game for everyone, everywhere. As The PGA nears its centennial, the PGA brand represents the very best in golf.
About Ship Sticks
Ship Sticks focus is to make the process of transporting clubs easier and more reliable, offer a one-stop solution, and provide a financial incentive for hard-working pros like you. Through our preferred partnership with major logistics providers, we are able to offer the most competitive pricing and the most reliable service passing on those savings to your members and guests. Email info(at)shipsticks(dot)com to learn more about our affiliate program and how you can earn rewards shipping clubs through Ship Sticks.