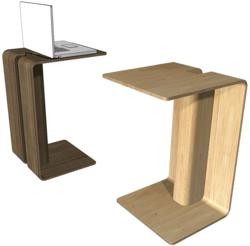 "We combed through hundreds of designs to select 10 that we feel embody the modern live/work lifestyle," said Dwell editor Kelsey Keith.
New York, NY (PRWEB) May 02, 2012
Dwell Media and Design Within Reach, two arbiters of modern design, today announce the 10 finalists from their Live/Work Design Contest, which challenges up-and-coming designers to create a new home-office solution that DWR could potentially manufacture and sell. Dwell and DWR accepted 587 entries in March, and jurors culled the list down to an impressive Top 10 which will be on view online and up for popular vote through May 21. The grand-prize winner will be announced in Los Angeles in June at Dwell on Design, the West Coast's largest design fair.
Dwell and DWR were looking for products and furniture in the home-office space that use materials of integrity and solve productivity challenges while mixing business with pleasure. We envision the winning design to be a future live/work staple. "We're always looking for the next future classic, the type of furniture that looks as good today as it will in twenty years," said Dwell editor Kelsey Keith. "We combed through hundreds of designs to select ten that we feel embody the modern live/work lifestyle."
"We are thrilled with the quality of entries from across the country and are confident that there is a classic of tomorrow among them. Along with our product development team, I look forward to getting to know the finalists and welcome the opportunity to bring one of their works to the public," said Kari Woldum, VP of merchandising at DWR.
Starting today, Dwell will accept online votes through May 21, 2012. Live voting will occur at Wanted Design (http://2012.wanteddesignnyc.com/) in New York, May 18–21, 2012, where finalists' entries will be on display. During the week around Dwell on Design, five finalists' designs will be on view at DWR Beverly Boulevard Studio (http://www.dwr.com/beverlyblvd). The grand-prize winner will be unveiled on June 22, 2012, at Dwell on Design in Los Angeles.
The Finalists are:
Wedge Desk by Alex Gil of New York, NY
Ledge Desk by Eric Pfeiffer of Oakland, CA
Ryles Storage Bench by David Cox of Houston, Texas
Hold On Tight Book Shelf by Colleen Whiteley of Brooklyn, NY
Innermix Desk by Amanda Ip of Chicago, IL
Okum Desk by David Okum of Los Angeles, CA
Travois Desk by Tyler Russell of Bastrop, TX
Float Wall Desk by Dario Antonioni of Playa Vista, CA
Pippa Desk by Ian Godfrey of British Columbia, Canada
Bento Laptop Table by Mark Daniel of Evanston, IL
For more information or to vote, visit http://www.dwell.com/live-work.