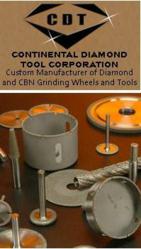 The store is designed to provide its customers with a simple solution to all their diamond tool and diamond wheel purchasing needs.
New Haven, IN (PRWEB) May 10, 2012
Continental Diamond Tool Corporation (CDT), custom manufacturer of diamond and CBN grinding tools and wheels, has announced the opening of its online store. The store is designed to provide its customers with a simple solution to all their diamond tool and diamond wheel purchasing needs.
The web store, located at cdtstore.gostorego.com, features a full-service ordering system with links to all of Continental Diamond Tool's available products, including a complete line of diamond tools and wheels and a complete catalog in an easy-to-download .pdf format. The store works hand-in-hand with CDT's main website, cdtusa.net, and can also be accessed from their home site.
The new web store also features specific sections devoted to descriptions of CDT's selection of plated products, including saw blades, mounted saws and routers, resin bonds, dressing tools and overruns to ensure customers receive the product(s) that meets their unique needs and specifications, all at the most competitive prices available today. Customers who create an account can store shipping addresses, view and track their orders, expedite the ordering process and even create wish lists to keep track of items they would like to purchase in the future.
In addition to their extensive line of in-stock diamond tools and wheels, Continental Diamond Tool Corporation can also help customers who are looking for a custom-designed and manufactured diamond grinding wheel or tool. CDT's knowledgeable and highly trained sales staff can work with you to ensure your order is completed on time and accurately. With nearly four decades of experience, CDT has the skills and technical expertise to make sure all of their products meet the highest standards of workmanship and reliability.
Continental Diamond Tool Corp offers an array of diamond tools and services, including but not limited to quality assurance, custom manufacturing, plated grinding wheels, resin bond and metal bond products, and dressers. For more information about CDT, contact them at (260) 493-1294 or visit their contact page: http://www.cdtusa.net/contact.shtml
About Continental Diamond Tool Corporation:
For nearly four decades, Continental Diamond Tools has been a pioneer in finding ideal solutions for superabrasives through a potent combination of technical innovation, reliability, and customer attention. The company excels in both standard and specialty products which gives them an unparalleled ability to respond quickly and effectively to the specific needs of each customer.