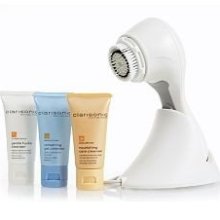 "After exercise the Clarisonic Pro gives that extra deep clean" - Dr Michael Lin
Los Angeles, CA (PRWEB) May 02, 2012
Clarisonic Pro is the premiere skin care tool, it has done for the face what the toothbrush has achieved for the teeth. Clarisonic makes five different skin care tools, ranging from the Clarisonic Pro, Clarisonic Plus, Clarisonic Classic, Clarisonic Mia 2, Clarisonic Mia. The main difference between the Clarisonic Pro vs Clarisonic Plus is the different speed levels. The Clarisonic Pro has 4 speeds, easily replaceable brush heads ranging from Acne Brush Head, Sensitive Brush Head, Deep Pore Brush Head, and Delicate Brush Head. Clarisonic Pro also comes with an universal charging cradle and a 3 year warranty, and is sold only to physicians. The Clarisonic Pro turns your daily skin care cleansing routine into a breeze.
"After exercise the Clarisonic Pro gives that extra deep clean", stated celebrity dermatologist Dr Michael Lin. Most patients that use the Clarisonic Pro see immediate results giving their skin a natural glow. Clarisonic Pro is normally $225, but now is available for $195.
Monthly Beauty Giveaway:
Also, in the month of May you can win the Clarisonic Opal as its part of Dr Lin Direct monthly beauty giveaway. Details of the Clarisonic Opal Giveaway available at Dr Lin Direct.
About Dr Lin Direct:
Celebrity dermatologist Dr. Michael Lin personally video reviews and approves all premiere skin care brands carried on Dr Lin Direct. Skincare Brands include: Clarisonic, BioCorneum, Matis Paris, Dermalogica, Murad, Obagi, PCA Skin, Fenix Skincare, Yu-Be Skincare, Dr J Organics, ACT Skincare, Linage, Linage LinQ, Vivite, MD Forte, NeoStrata, Nia 24, Aveene, MD Forte, Zeno, and Cotz.
Free shipping and 45 day money back guarantee allows Dr Lin Direct to provide all customers with the opportunity of achieving their skin care goals.
Dr Michael Lin has 7 successful practices in Southern California interacting with his patients on a daily basis. The practices are in Sherman Oaks, Valencia, Westlake Village, Beverly Hills, Ventura, Oxnard and City of Industry, California.