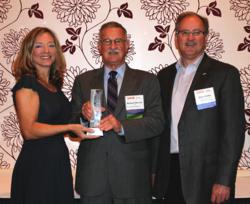 We are proud to be recognized as a leading provider of Wi-Fi technology to the multifamily industry.
-Dick Sherwin, CEO, Spot On Networks
New Haven, CT (PRWEB) May 02, 2012
The Outstanding Multifamily Partner Award ("OMPA") was awarded to Spot On Networks, LLC at the Broadband Communities Summit, a premier multifamily residential industry technology conference at the InterContinental Hotel in Dallas, TX. OMPA winners are nominated and voted on by multifamily property owners. Previous award winners include: Whirlpool, Yieldstar, Velocity and Verizon FiOS.
The OMPA was presented to Spot On Networks CEO Dick Sherwin by Stephen J. Sadler, Vice President, Strategic Business Services, Post Apartment Homes, L.P. and Cheryl Barraco, Director of Telecommunications - Strategic Business Services, AvalonBay Communities. In presenting the award, Mr. Sadler said, "I was pleased to present this award to Spot On Networks. They have an excellent reputation in the multifamily industry as an innovative technology provider that is aware of, and responds to, the needs of both today's multifamily resident and today's multifamily property owner".
Sherwin was thrilled to accept the OMPA award stating: "Spot On Networks is deeply honored by this award. We are proud to be a part of the Broadband Communities Summit. When we first began to exhibit at Broadband Communities, Wi-Fi technology was practically unknown to the multifamily industry and now residents are demanding that Wi-Fi be available in their communities. Spot On Wi-Fi stands out due to its UserSafe™ technology which guards residents against hacking and identity theft. We are proud to be recognized as a leading provider of Wi-Fi technology to the multifamily industry."
UserSafe™ is 100% security protection for your Wi-Fi network users. Each device attaching to Spot On's network is isolated from all other devices. Since Spot On's networks use Secure Socket Layer ("SSL") encryption, user activities are protected from scanning and capture. UserSafe™ allows Wi-Fi network users to surf, shop, bank and email safely and securely. Users are protected from dangerous new "hacking" apps that allow snoops and criminals to tamper with and gain access to files on another user's device over Wi-Fi.
Spot On Networks is the largest provider of high speed Wi-Fi internet to the multifamily industry and the ONLY provider equipped with UserSafe™ technology. SON deploys fully managed Wi-Fi Networks to multifamily properties, hotels and commercial spaces. Spot On UserSafe™ ensures that residents receive 100% security protection while surfing the web, emailing, shopping online, using passwords and more! Spot On provides high speed Wi-Fi capabilities throughout a residential complex without DSL or Cable Modem services while providing complete mobility and faster service. Spot On can also provide residential buildings with enhanced cellular and Smartphone coverage over Wi-Fi.
Spot On Networks offers Energy Management, Building Automation and Security Systems Solutions that allow properties to save money on utilities, earn LEED points, decrease their carbon footprint and save on the cost of expensive wired systems.
Spot On's fully managed Wi-Fi networks are customized to each individual property and can be provisioned for both community-wide or common-area only Wi-Fi access. SON only deploys secure, carrier-grade and CALEA compliant networks and offers the property and residents 24/7 World Class Customer Service, support and maintenance.
Since 2004, SON has deployed networks in 26 states, for over 400 properties, covering more than 100,000 residential and hospitality units. Many of the Top 50 REITS are SON customers. For more information visit http://www.spotonnetworks.com.