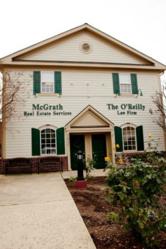 Herndon, VA (PRWEB) May 10, 2012
Timothy Savin of McGrath Real Estate Services completed his training and has earned his Associate Broker license in the State of Virginia. He joins Principal Broker, James McGrath and Managing Broker Tim McGrath as the brokers at McGrath Real Estate. Tim Savin currently serves as part of the Client Advocate department serving clients as their point of contact while their property is being managed.
In Virginia, to obtain a Broker's license, the real estate sales person must complete an additional 8 hours of training relating to supervision and management of real estate agents and the management of real estate brokerage firms. In addition, the prospective broker must take ethics and standards of conduct, fair housing, legal updates and emerging trends, real estate agency and real estate contracts training.
Timothy Savin started at McGrath Real Estate in 2005 and earned his sales person license shortly thereafter. His position as the main point of contact for McGrath Real Estate's clients motivated him to pursue his broker's license to better serve client's needs.
About
McGrath Real Estate Services has served the Northern Virginia region since 1976 as an expert in property management and real estate sales. Founded by a Foreign Service family they understand and appreciate the unique needs of homeowners serving our country abroad. For more information please visit McGrathRealEstate.com.