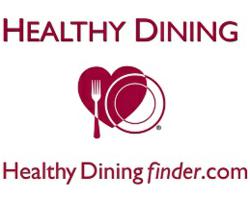 We are thrilled that Yahoo! and The TODAY Show recognized HealthyDiningFinder.com as one of the best apps and sites to help Americans eat smarter.
San Diego, CA (PRWEB) May 03, 2012
Making sense of all the often conflicting information on healthy eating and what foods are considered best can be overwhelming for health-conscious Americans looking for simple solutions to eating and living well. HealthyDiningFinder.com–Yahoo! Web Life's top pick for the best website and app for eating healthier when dining out – makes finding restaurants and dietitian-approved menu choices easy. The signature website of California-based Healthy Dining, along with its mobile site and the yumPower iPhone app, was featured earlier this week on NBC's TODAY Show in a segment titled "Small Steps to a Healthier You," spotlighting Yahoo! Web Life's top picks for using technology to eat healthier.
In the segment, TODAY Show contributor and Yahoo! Web Life Editor Heather Cabot shared with TODAY host Al Roker some recommendations for what Roker referred to as "cool tools to help us out when at the grocery store or when dining out." The segment underscored how technology is playing a bigger role in educating and helping people become more armed with information they need to make smarter eating decisions. As Cabot explained, "Dining out can be tough for a lot of people." But she demonstrated how HealthyDiningFinder.com takes the guilt and guesswork out of what to order at restaurants nationwide. She showed TODAY's viewers how easily one can navigate through the user-friendly site by typing in a ZIP code or city and state. Then, HealthyDiningFinder.com displays search results including restaurants participating in the Healthy Dining Program, qualifying menu choices and corresponding nutrition information. The site includes tens of thousands of restaurant locations, spanning fast food to fine dining, coast to coast, with thousands of Healthy Dining-approved menu items analyzed and validated by Healthy Dining's team of registered dietitians.
"We are thrilled that Yahoo! and The TODAY Show recognized HealthyDiningFinder.com as one of the best apps and sites to help Americans eat smarter," said Anita Jones-Mueller, MPH, Founder and President of Healthy Dining. "It is exciting to see the number of restaurants featured on the site growing. It really proves that dining out healthfully can be a delicious experience, whether it's date night, family night or a meal on-the-go."
During the segment, Cabot also recommended yumPower, an iPhone app powered by HealthyDiningFinder.com and developed by Minnesota-based HealthPartners. The app, along with HealthyDiningFinder.com and its mobile site, are especially convenient for families traveling during the upcoming summer season. Parents can search for restaurants across the country offering Kids LiveWell menu options, a program developed by the National Restaurant Association, in collaboration with Healthy Dining. Additionally, HealthyDiningFinder.com features Sodium Savvy menu choices for individuals who may be seeking heart-healthy, lower-sodium options.
HealthyDiningFinder.com recently enhanced its site to include new features and functionality, including: an "Ask the RD" forum for consumers to ask health and nutrition questions directly to Healthy Dining's registered dietitians, delicious and nutritious restaurant recipes, an opportunity to sign up for free e-newsletters, and the latest in nutrition news and trends through Healthy Dining's blog.
For more information or to view The TODAY Show segment, visit HealthyDiningFinder.com, or follow Healthy Dining on Facebook, Twitter or its blog.
About HEALTHY DINING:
Since 1990, HEALTHY DINING's culinary nutrition experts have been guiding and inspiring chefs and restaurateurs to create and serve a selection of HEALTHY DINING menu options. A leader in restaurant nutrition, the company works with hundreds of restaurants and has analyzed thousands of menu items for nutrient content. In collaboration with the National Restaurant Association, HEALTHY DINING leads the largest-ever restaurant industry nutrition initiative. Through HealthyDiningFinder.com, the only resource of its kind, Americans can find dietitian-approved, HEALTHY DINING menu options and view corresponding nutrient information (calories, fat, etc.) for restaurants that span fast food to fine dining, coast to coast. The site is promoted to the growing segment of health- and weight-conscious consumers through employers, health organizations, health insurance companies, weight control programs, fitness centers, the media, and much more. The Centers for Disease Control and Prevention (CDC) provided partial funding for the development of theHealthyDiningFinder.com e-health tool.