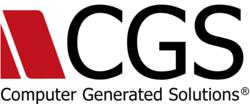 New York. NY (PRWEB) May 04, 2012
Computer Generated Solutions (CGS), a leading global provider of technology solutions, announced today that they will be participating in this year's ASTD 2012 International Conference & Exhibition. This event will take place May 6-9 at the Colorado Convention Center in Denver, Colorado.
Located at Booth #1650, Diane Rumishek, Federico Shephard and Paul Hanson of CGS will be presenting the company's unique solution offerings in the learning and training realm. CGS offers a full range of design, development and delivery services including instructional design, content development, instructor-led training, virtual Instructor-led training, blended learning solutions, e-learning, m-learning, registration portals and unique modalities, and comprehensive training outsourcing.
CGS is a recognized leader in the training industry and has been recognized by TrainingIndustry.com as a Top 20 Training Outsourcing Company in 2010, 2011, and 2012. Additionally, they were included on TrainingIndustry.com's 2012 Leadership Training Companies Watch List and received the Brandon Hall Award for Excellence in Technology in 2009.
Notable CGS customers include IBM, AT&T, Dell and Wal Mart.
Held each spring, this premier event for workplace learning and development professionals welcomes 8,000 attendees from more than 70 countries. These professionals manage all aspects of learning in their organizations. From CEO to specialist, from dean to student, ASTD 2012 welcomes people from across the globe. Learning is a key driver in companies big and small. ASTD's International Conference & Exposition brings together Fortune 500 companies like Wal-Mart, Exxon Mobil, General Electric, Bank of America, and AT&T to share what they are doing in learning to help grow businesses of all sizes.
About ASTD
ASTD (American Society for Training & Development) is the world's largest association dedicated to workplace learning and performance professionals. ASTD's members come from more than 100 countries and connect locally in more than 128 U.S. chapters and with more than 20 international partners. Members work in thousands of organizations of all sizes, in government, as independent consultants, and suppliers. Started in 1943, in recent years ASTD has widened the profession's focus to link learning and performance to individual and organizational results, and is a sought-after voice on critical public policy issues.
About CGS
For more than twenty-eight years, CGS has enabled global enterprises, regional companies and government agencies to drive breakthrough performance through technology. Headquartered in New York City, CGS employs over 4,500 professionals in 20 offices in North America, Latin America, Europe and Asia. With global delivery capabilities, expertise across leading platforms and deep experience in multiple industries, CGS has become the IT partner of choice for thousands of organizations worldwide. CGS delivers a wide array of proprietary and third-party business applications, technology, business services and business process outsourcing solutions, including customer care, technical support and corporate learning & training. For more information please visit http://www.cgsinc.com.