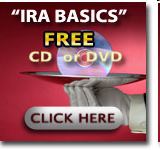 People often worry if real estate prices have hit rock bottom and are sometimes unwilling to make deals if they feel prices are not rock bottom. I encourage people to look past that 'rock bottom' figure and instead focus on the profit potential.
Knoxville, TN (PRWEB) May 06, 2012
Attention: Real Estate Investors! Jim Hitt, CEO of American IRA, LLC-a national self-directed IRA provider - will attend the Atlanta REIA May 7th meeting designed for Real Estate Investors. Discover powerful internet marketing strategies specifically designed for Real Estate Investors to generate more leads, more deeds, more cash and equity!
Jim Hitt interjects, "People often worry about whether real estate prices have hit rock bottom and are sometimes unwilling to make deals if they feel those prices are not rock bottom yet. What I encourage people to do is to look past that 'rock bottom' figure and instead focus on the 'profit' that can be made. That really is what is important. We are in a time of historically low interest rates and historically low private residential housing prices while they are not as low as they were in 2003...there is still a lot of profit to be made if you due your due diligence and keep your eyes on the best deals."
Duncan Wierman will be the presenter at this May 7th meeting. Duncan Wierman is an Atlanta REIA Business Member, a full time investor in Greenville, SC and an Internet Marketing Wizard. Duncan's business revolves around using automated systems so they can do less work and make more money buying, selling and holding real estate more efficiently. Duncan uses Internet Marketing and automated Internet systems for attracting buyers, sellers, and investors resulting in 300 deals a year without leaving the desk!
Learn Duncan's secret methods on buying 1, 2, 5 or even 10+ houses or more per month, snatching houses up fast and selling them for huge profits within hours, without risk and without leaving home! If this sounds too good to be true, there is even more… Join the meeting and Duncan is going to teach everyone how to…
*Attract dozens of desperate, motivated sellers and cherry pick the hottest deals
*Uncover hidden bargain deals on the Internet at record breaking speed
*Buy properties below 65 cents on the dollar and then sell them within 1 hour
*Turn that business into a system that makes over $32,756.32 a month, each and every month
*Set up a system that can "sniff out" hidden properties that virtually no one knows even exist
*Use automatic "bots" to work day and night, bringing qualified customers and hot deals
*Get that phone ringing off the hook with people begging to use their money to fund those deals
*Get insane real estate profits even if holding down a day job and have no time
*Boost credibility with sellers, even if new to real estate investing
*Create a HUGE list of investors who want to be notified FIRST and will be begging to buy houses
*Market, buy, sell, and/or assign property online, to make MILLIONS in cash and equity from home
Jim Hitt concludes, "This meeting sounds like an information packed event and I am looking forward to attending. I will also be available after the meeting if you have any questions about self-directed IRAs. Remember, you can use self-directed IRAs as a source of funds for those real estate deals. You can also use your self-directed IRA to issue hard money loans. The possibilities are truly endless."
About:
American IRA, LLC was established in 2004 by James C. Hitt in Asheville, NC.
The mission of American IRA is to provide the highest level of customer service in the self-directed retirement industry. Mr. Hitt and his team have grown the company to over $250 million in assets under administration by educating the public that their self-directed IRA account can invest in a variety of assets such as real estate, private lending, limited liability companies, precious metals and much more!
To learn more about American IRA, LLC and self-directed IRAs/self-directed Solo 401(k)s, please contact our office at 1-866-7500-IRA(472).
As a self-directed IRA administrator they are a neutral third party. They do not make any recommendations to any person or entity associated with investments of any type (including financial representatives, investment promoters or companies, or employees, agents or representatives associated with these firms ). They are not responsible for and are not bound by any statements, representations, warranties or agreements made by any such person or entity and do not provide any recommendation on the quality profitability or reputability of any investment, individual or company. The term "they" refers to American IRA, located in Asheville, NC.