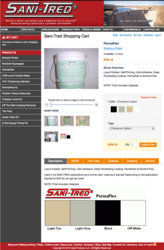 This day and age, the customer is looking for a quick and easy to use system to get their products, hassle-free, said Bill Emerick Marketing Director
Plymouth, IN (PRWEB) May 08, 2012
Sani-Tred, a premiere provider of do-it-yourself waterproofing solutions, introduces a new system for consumers to get their products faster and more conveniently. Sani-Tred customers are looking to repair and waterproof basements, swimming pools, roofs or other surfaces and have a high sense of urgency. The new e-commerce software has an array of novel features such as customer accounts where information can be saved and retrieved, multiple shipments per order, access to marketing tools and coupons, one page checkout and order management options.
The company's new cutting edge platform is just the initial phase of a complete revamp of the current website, which will increase customer satisfaction and profits for the business.
"This day and age, the customer is looking for a quick and easy to use system to get their products, hassle-free," said Bill Emerick Marketing Director. We are confident that this will be a game changer for us. Our goal is to enhance the customer's experience, increase sales and create a long term platform for the company's success."
The demand for Sani-Tred products is quickly growing because it is a self-applicable solution. By eliminating the process of contracting an expensive exterior waterproofing company with easy to follow instructions, Sani-Tred is significantly reducing the turn around time and cost involved in repairs. And their products come with a lifetime warranty, giving customers a secure and permanent coating solution.
Sani-Tred produces unique and highly versatile waterproofing products that consumers can apply themselves. These coating systems tackle common household problems such as cracks, leaks, mold build up and other damage by providing basement waterproofing, concrete repair, pool repair and more. Sani-Tred's trademark is their exclusive and patented technology which includes, Flexible Penetration Technology®, Permanent Elongation™ and Elongation Memory Technology®. For more information on Sani-Tred and their services, please visit http://www.sanitred.com or call 866-784-3308.