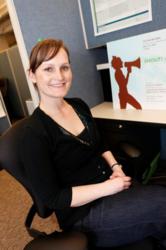 "SHOUT! provides a unique chance for women veterans like me to connect with, celebrate and honor the women who have served our country."
San Francisco, CA (PRWEB) May 04, 2012
The veterans rights organization Swords to Plowshares is hosting its fourth annual art show to honor women veterans. The event, SHOUT! Art by Women Veterans was designed to raise awareness about the experiences of women veterans, engage the veteran community and explore the intersections of art, community and healing.
"It is critical to foster awareness about the issues facing women veterans," says Michael Blecker, Swords to Plowshares' Executive Director. "Now in its fourth year, the event continues to help us build a network of women veterans and supporters, and to provide resources for women in need—many who have overcome issues like homelessness and post-traumatic stress disorder."
The event will feature art created by more than a dozen women veterans, as well as the works of two women who are currently deployed. This year, SHOUT! will feature artists presenting photography, poetry, painting, sculpture, comedy and music.
"It is typical for many women to think of themselves as a mother, a student, a daughter – but not as a former service member," says Star Lara, Swords to Plowshares' Women Veterans Coordinator. "The problem with this is that they are not seeking the services and support they need to transition successfully to civilian life. SHOUT! provides a unique chance for women veterans like me to connect with, celebrate and honor the women who have served our country."
WHEN: Wednesday, May 9, 2012 / 6 -10 pm
WHERE: The Women's Building
3543 18th Street, San Francisco, CA 94110
War causes wounds and suffering that last beyond the battlefield. Our mission is to heal the wounds, to restore dignity, hope, and self-sufficiency to all veterans in need, and to reduce homelessness and poverty among veterans. Learn more about the work of Swords to Plowshares, and ways in which you can help, by visiting our website at http://www.shoutforwomenvets.org