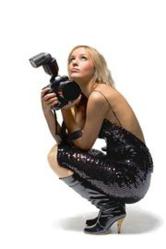 we have decided to offer a free model portfolio
London, UK (PRWEB UK) 5 May 2012
Win the chance to have a free model portfolio as La Mode London annonce their new competition.
The company at the very forefront of the modelling industry, http://www.lamodelondon.com knows what it takes to be successful in the world of the aspiring model. They urge anyone who would like to get into modelling to try and sell themselves, never to simply rely on model agencies to find potential work.
'A model needs more than just looks and style to make it in these very tough times', says Helen Smith, director for the model advice company. 'We are absolutely convinced that the modelling portfolio and a website is the best way for an aspiring model to make a head start.'
She goes on to explain that La Mode London provides a full advisory service for aspiring teen models, commercial models, fashion and plus size models. They also excel at child modelling advice as well as extra or talent work for dancers and actors. The company aren't afraid to let their clients know if they have the potential and how best to promote and market themselves to the modelling industry. They would urge any model to take up one of their model assessment days to kick start their model application.
'We know times are tough and work is very hard to find at the moment', continues Helen. 'Modelling agencies aren't really taking on many new faces due to the recession and are relying on models that have all the necessary requirements and are already on their books.' She urges new models not to be too downhearted, advising that it is not a totally impossible task to break into the industry if they have the looks and talent.
'The best way to get noticed is to look professional from the start and a modelling portfolio is certainly the first step. Becoming self employed and starting a business, any person would have to buy tools for their particular job. A modelling portfolio and accompanying website is simply just that.' She goes on to offer,' here at La Mode we would encourage any aspiring model to get a portfolio made as soon as possible. The great news is, we have decided to offer a free model portfolio with our very own competition'.
The company urge anyone interested to simply register details with the model advice company at http://www.lamodelondon.com and enter the competition to win a photo shoot day and free model portfolio.
The competition is open to any potential model, but invites parents of models under the age of 18 to fill in the form on behalf of their minor.
'It's a great way to find out if you have model potential because filling out the form on our website, allows you to upload an image and we can tell you straight away whether we think you have the look and style to make it in the modelling industry.'
Please read and accept the terms and conditions before entering the free model portfolio.