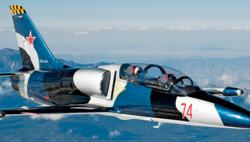 With a Real Military Fighter Pilot as your tutor, your "real-as-it-gets" Air Combat Mission will take you head-to-head against your adversary. Basic to Advanced.
Phoenix, AZ (PRWEB) May 06, 2012
Millionaires across the world can now add a new addition to their "bucket list" and that is aerial dog fighting. Unlike any other flying experience, Fighter Combat International(FCI) puts participants in the cockpit with an experienced U.S. Navy pilots to train and learn the basics of combat fighting. That's not all though. Participants will also learn how to fly a different fighter jet during this four day excursion.
Starting at $2.5 million dollars, participants can experience a real 4 on 4 dogfight with their closest companions. Each participant will be trained in the art of flying a combat jet while trying to complete the goal mission of the day whether it is a challenge to see who can withstand the most G-force or the best fighter pilot of the day.
"FCI's standard offerings include various aerobatic packages (only someone with a stomach of steel should attempt such extreme maneuvers as tumbling) as well as aerial-combat experiences, during which participants take control of the aircraft. FCI guests typically fly the Extra 300L, an aerobatic single-engine piston capable of a positive or negative force of 10 g, a roll rate of 360 degrees per second, and speeds approaching 250 mph."
Read more at: http://www.fightercombat.com/
A representative of BillionairesBunker.com says "The only thing that is a simulation is the ammunition, trainees will control most of the functions of the fighter jet while they are guided by a U.S. navy co-pilot through their rigorous training. It's truly a hands on exhilarating experience that will not only test your stomach but also your combat skill as well."
Fighter Combat International combines an adrenaline rush like no other which is why the most wealthiest are adding this to their "bucket List". Now let's see who will get the coveted Top Gun trophy.
Get more information at ; BillionairesBunker.com