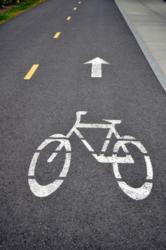 Too often, motorists walk away from bicycle accidents unpunished or uncharged, even in cases where cyclists die
Killeen, TX (PRWEB) May 05, 2012
The outcry by cyclists to improve safety brought hundreds of bicyclists and safety advocates together in "Pedaling for Safer Roads," on Thursday night, bringing attention to the serious bicycle safety issues plaguing the region.
Last week, 55-year-old cyclist, Verter Ginestra, was struck and killed in a bicycle accident in Austin. Just days later, Killeen cyclist, 48-year-old Terrance Allen Mack, was killed when he was struck while riding with a group of cyclists in Nolanville.
As many as 48 people were killed in bicycle accidents in 2009 in Texas alone, one of the highest numbers of bicycle fatalities in the nation, coming in third only to Florida and California, according to the most recent statistics released by the Department of Transportation.
As cyclists themselves, some of the attorneys at The Carlson Law Firm are taking note, highlighting the importance of safeguarding riders in the area by bringing light to some of the risks they face and enforcing driver repercussions.
"I think some drivers get angry at cyclists because they believe we can just ride on the gravel or unimproved shoulders to get out of their way. But the tires on a road or triathlon bike are not designed for rough terrain and could puncture them," notes avid cyclist and Partner at The Carlson Law Firm, Steven Walden.
In addition to informing drivers and holding them responsible for serious and fatal bicycle accidents, cyclists can also do their part to protect themselves. Making sure driver see cyclists is imperative.
"I only ride with a flashing strobe light on the front and rear of my bike," Walden said. "I also only ride on roads that have speed limits of 55 mph or less. When traveling with other cyclists, we ride in single-file and alert each other when there is a car coming from the rear."
As cycling accidents increase, the way cyclists train and ride is also transforming with the development of emergency preparation.
"Because of the rising number of cycling deaths and injuries, I wear a wrist ID with my name, emergency contact and blood type," said Walden.
While cycling safely and being aware of surrounding vehicles is an imperative part of bicycle safety, more stringent laws are also touted as an important solution by the personal injury attorneys at The Carlson Law Firm.
"Too often, motorists walk away from bicycle accidents unpunished or uncharged, even in cases where cyclists die," Carlson Law Firm personal injury attorney Francisco Morales said. Police said the driver of the pickup truck that struck and killed Terrance Mack was only cited for "failure to yield the right of way and unsafe speed."
While an immediate solution to the rising number of bicycle accidents and fatalities may not be an easy one to uncover, as cyclists themselves, Walden and Morales hope that holding drivers responsible for injuries and death resulting from such accidents will help display the importance of bicycle safety to both cyclists and drivers.
For more information about The personal injury attorneys at The Carlson Law Firm, call 800-359-5690 or contact the law firm online.