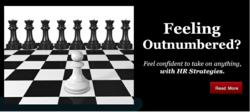 As unemployment insurance rates affect everyone, it is important that executives learn how to protect their business from unwanted claims
Dultuh, GA (PRWEB) May 09, 2012
Furnishing top-notch quarterly management training sessions to their clients affords HR Strategies to prepare their client's for a variety of workplace regulations, as well as to deliver the support needed to foster and promote a sound workplace. HR Strategies has recently announced that their latest training session, to be held on May 17th, 2012, will be presented by their very own MariaElena Ayala, Vice President of HR/Client Services. Ms. Ayala will lead a panel of unemployment claims subject matter experts in the discussion and training of how to defend against claims before they occur. The specific topics will include: how to prevent claims, proper documentation, hearing and claims scenarios, burden of proof, and at-fault vs. not-at-fault terminations. As unemployment insurance rates affect everyone, it is important that executives learn how to protect their business from unwanted claims.
This is the second of the series for 2012, and clients can expect a different topic affecting management and business to be presented quarterly. As always the training session is completely free for clients, who can expect to enjoy a top of the line speaker followed by a delicious catered lunch compliments of HR Strategies. The Management Training Series proves to be another way that HR Strategies bestows the value of HR outsourcing to their client companies.
About HR Strategies
HR Strategies provides the customizable HR solutions (including but not limited to payroll, benefits, workers compensation, tax administration, regulatory compliance, HR consulting, training solutions) and expertise of a large corporation's personnel department in an affordable and effective solution. HR Strategies enables clients to reclaim time, stabilize and reduce labor costs, and stay compliant with government regulations.