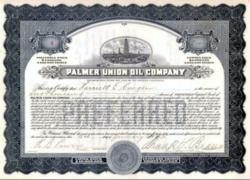 Old Stock and Bond Certificates may have collectible or redeemable value
(PRWEB) May 07, 2012
[WASHINGTON, DC (May 7, 2012) - Scripophily.com's Old Company Research Business has skyrocketed after Reuters News Service reported a lawsuit regarding stock from Palmer Union Oil Company which ended up turning into Coca-Cola. Our company was notified by of Reuters News Service that one of the filings made in March 2012, included the old company research report performed by our company, OldCompany.com, in 2009.
In our research report, we showed the history of the Palmer Union Oil Company which turned into long-forgotten companies such as Palmer Stendel Oil Corporation, Petrocarbon Chemicals Inc and ultimately Taylor Wine Company Inc. and ended up merging into Coca Cola Co. on 1/21/77. As a result of this story, Bob Kerstein, founder of Scripophily.com / Old Company Research, was featured on the "Today Show" and "Inside Edition" as a Stock Certificate Expert.
In this particular case, Kerstein believed that the Palmer Union Oil Company stock only had value as a collectible and not a redeemable security. Factors considered in this determination included the method in which the stock was acquired, issued and endorsed, the number of reverse stock splits and capital changes, statute of limitations issues, requirements of escheating property over to government, and the cancellation of the certificate.
As a result of this story, there has been renewed interest in people having old company stock and bond research performed to determine whether or not old stock certificates in their possession have possible value as a collectible or a redeemable security. Scripophily.com's Old Company Research Service provides services for individuals, banks, attorneys, estates and trusts detailing the company's history regarding name changes, mergers, bankruptcies, and predecessor and successor companies. If the company did survive, OldCompany.com will provide contact information so a determination can be made as to whether the securities have any market value.
Old Company Stock Research Service is celebrating 16 Years on the Internet is the successor to the archives, publishing rights and copyrights on obsolete research reference material owned by the Marvyn Scudders Manuals, the Robert D. Fisher Manuals, and the Herzog & Co., Inc. obsolete research services, which have been performed continuously since 1880.
Scripophily.com - The Gift of History is the internet's leading buyer and seller of collectible stock and bond certificates, and old stock research at OldCompany.com. The company has had items on display in the Museum of American Finance in New York, an affiliate of the Smithsonian Institution. Scripophily.com has been featured on CNBC, Today Show, Inside Edition, Reuters News Service, MSNBC, USA Today, Baltimore Sun, and Washington Post and in many other media publications.. Our online store has over 17,500 selections including categories such as Frauds, Scandals, Bankruptcies, Dot Coms, as well as the traditional American industries like Mining, Railroads, Aviation, Telephone and Telegraph, Health Care, Sports, U.S. Government Bonds, Confederate States of America Bonds, Mexican Bonds, Chinese Bonds, Greek Bonds and many other categories.
Scripophily (scrip-ah-fil-ly) is the name of the hobby of collecting old stock and bond certificates. Values range from a few dollars to more than $500,000 for the most unique and rare. Tens of thousands of Scripophily buyers worldwide include casual collectors, corporate archives, museums and serious collectors.
Scripophily.com and OldCompany.com was founded by Bob Kerstein, a Certified Public Accountant and Chartered Global Management Accountant who has more than 36 years of senior management experience in the Cellular, Cable TV, Satellite, Internet, Professional Sports and Entertainment Industries. Bob is also the President of the Professional Scripophily Traders Association (PSTA).
For more information on Scripophily.com®, visit http://www.scripophily.com/, http://www.oldcompany.com and http://www.bob.com or call 1-703-787-3552.
# # # __title__ Scripophily.com / Old Company Research Services]