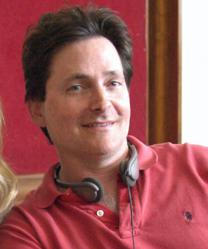 "Utah is quite a dichotomy in that it's conservative on the legalities of what constitutes a legal marriage and yet is also home to one of the country's more accepting gay communities in Salt Lake City."
-- Stephen Seager
Los Angeles, CA (PRWEB) May 08, 2012
An accomplished author and prominent film maker have teamed up to explore the issue of being gay and gay marriage in conservative Utah. They hope to change the conversation about gay issues with OUTSIDE: GAY IN UTAH, an even-handed documentary that will examine the searing contradictions and controversies surrounding homosexuality in a state known for being the center of the LDS Mormon Church.
Hollywood Producer/Director Ken Aguado and author Dr. Stephen Seager have joined forces on the project, with a target premiere at the Sundance Film Festival in early 2013. Production is set to begin this summer.
"The objective of our film is to turn down the volume on a very volatile, hot button issue," says Dr. Seager, a native of Utah who brings a very personal connection to the documentary. "We'll talk to those on both sides, from the openly supportive community in Salt Lake City to the hierarchy of the Mormon Church. The purpose of the film is to take an even handed look at this polarizing debate on what constitutes marriage and, just as importantly, how the two sides can find common ground.
"Utah is quite a dichotomy in that it's conservative on the legalities of what constitutes a legal marriage and yet is also home to one of the country's more accepting gay communities in Salt Lake City. Our film will talk to the man on the street, the students, parents of gay children, professors, clergy and others who have experienced this firsthand in the state."
(OUTSIDE: GAY IN UTAH is raising funds through Kickstarter, an innovative funding platform for creative projects.)
Dr. Seager grew up in Utah and had relatives who were quite prominent in the community but spent their entire personal lives hiding the fact that they were gay.
Aguado is a veteran film and television producer and director. He produced THE SALTON SEA starring Val Kilmer, Vincent D'Onofrio and Debra Kara Unger for Castle Rock Entertainment/Warner Brothers; CRAZY AS HELL, starring Eriq La Salle and Michael Beach, distributed theatrically by Artistic License; SEXUAL LIFE, written and directed by Ken Kwapis, starring Anne Heche, Tom Everett Scott and Elizabeth Banks for Showtime.
Most recently Aguado completed the independent film THE GOATS, based on the famous novel by Brock Cole. The Goats is a topical drama about two kids who must grapple with the aftermath of a bullying incident.
When Dr. Seager learned that Aguado was developing a motion picture based on the anti-gay rights campaign of Anita Bryant, he suggested they team up to produce an even-handed examination of the strange plight of homosexuality in the predominantly Mormon state of Utah. Aguado expects to draw upon his substantial Hollywood relationships for both on and off camera celebrity interviews and input.
While a number of states have passed gay marriage laws in recent years (Connecticut, Iowa, Massachusetts, New Hampshire, New York, and Vermont, plus Washington, D.C. and Oregon's Coquille and Washington State's Suquamish Indian tribes), the vast majority of the country still adheres to the constricts of the Defense of Marriage Act, a federal law passed during the Clinton Administration in September of 1996.
California passed a law in June 2008 affirming the legality of gay marriage but it was struck down by voters on November 4 of that same year under the controversial Proposition 8, which was heavily backed by the Mormon Church.
About Stephen Seager
Dr. Stephen Seager is a staff psychiatrist at Napa State Hospital in Napa California. He is the author of five books, including Breathe, Little Boy, Breathe (1981 Prentice/Hall); Emergency! A Novel (1983 GP Putnam's Sons); Psychward: A year behind locked doors (GP Putnam's Sons); Street Crazy, America's Mental Health Tragedy (2008 Westcom Press); and, The God Gene, a novel (2010 Westcom Press)
'Psychward' was optioned to Paramount Pictures (film), ABC Television and the BBC. Dr. Seager has appeared on more than 300 shows to talk about his work, including Good Morning America, The Oprah Winfrey Show and National Public Radio. His books have also been translated into German and Japanese.
Related Material: The "conversations" have already begun. To see what some LGBT youth are thinking about being gay in Utah, please click here.