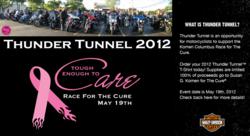 Columbus, OH (PRWEB) May 07, 2012
At 6:30 in the morning on May 19th, 2012 hundreds of motorcycles will gather in the parking lot of A.D. Farrow Co. Downtown, America's Oldest Harley Dealer™. From there, the Columbus Police will provide a short escorted ride to the A.D. Farrow Co. Sponsorship location on the Susan G Komen Race for the Cure course. It is there, at the corners of Chestnut and High Street, that the infamous Thunder Tunnel will be formed. As breast cancer survivors and supporters run the three-mile trek in downtown Columbus they will end the race motivated by the revving engines of motorcycles.
Once again, Nationwide Insurance has graciously donated the hundreds of donuts and coffee that will be awaiting bikers at the sponsorship location. These hundreds of motorcyclist filled with coffee will line the street and cheer on race participants with revving engines, blowing horns, and high fives.
New this year, A.D. Farrow Co. Harley-Davidson have formed the A.D. Farrow Co. Kickin' Cancer Butt Crew in which associates and customers have joined together and will be running in the Race as a team!
Also of note, a significant portion of the contributions will be made though the purchase of the yearly Thunder Tunnel T-Shirt. The "Tough Enough to Care" shirt is available for purchase online at http://www.adfarrow.com and at the A.D. Farrow Co. Downtown location. One hundred percent of proceeds from shirt sales are given back to Komen.
A sense of charity seems to be in the company's DNA. Contributions such as this have won A.D. Farrow Co. the prestigious Conway Family Business Center "Community Engagement Award." Dealer Principal Bob Althoff claims, "We sometimes lead, sometimes follow, but always are the glue as our big hearted and generous motorcyclists step up to support yet another worthwhile cause."
Another example of the historic charitable efforts is the winning the highly coveted Dealer News Top 100, Special Merit Award category for Community Involvement. "A.D. Farrow Harley-Davidson in Sunbury, Ohio, … The Ohio dealership, celebrating its 100th anniversary in 2012, is known regionally for its commitment to local community improvement and fundraising – a year-long program almost staggering in its magnitude," judges said.
After the race is complete A.D. Farrow Co. will be hosting an After Party at the 491 West Broad Downtown dealership. The After Party will consist of a free cookout and entertainment for all guests. See http://www.adfarrow.com for more details on this and many other 100th anniversary events.