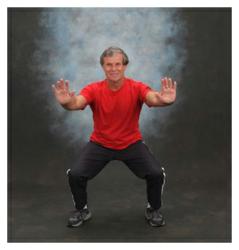 "Exercise in your car, while walking in stores, while cooking, even while pumping gas. Remember, keep moving. It's fun and essential to ease the impact of aging."
Los Angeles, CA (PRWEB) May 08, 2012
During the Month of May, Dr. Carol Francis discusses the vexations of aging and tools to stall symptoms of aging. During her Talk Radio Show - Make Life Happen- Dr. Francis explores fitness for those over 50. Month of May is dedicated to energizing the body that is growing older by the minute on the Dr. Carol Francis Show. Each podcasts available at BlogTalkRadio.com/dr-carol-francis.
This week of radio broadcasts begins with Senior citizen, Author and Fitness Trainer for over 25 years, Nicholas Prukop. Nicholas Prukop paves the way for those unfit or unexercised seniors to begin moving their body and invigorating their brain and the chemicals that make them happier and energetic. Basically, he clearly reminds listeners that if they do not use their body they will lose its supple, flexible and muscular capacity to support health while aging.
Now more than ever, aging adults have access to gyms, exercise tapes, or videos on line. Radio Show of Nicholas Prukop's advice can be listened to online at this link: http://www.blogtalkradio.com/dr-carol-francis/2009/05/22/get-fit-after-45-after-menopause-gee-after-60
Menopause reduces the chemicals that fight off cholesterol or fat accumulation. For women, the weight gain and the squishy belly become a startling introduction into the next phase of life. Often women feel helpless or depressed about the changes their body is obviously forcing upon them. Yes, the world of medicine allows for all sorts of hormonal supplements or replacement which will be a topic of another show this month. However, exercise for the menopausal and post-menopausal woman is essential to embrace as bones, brain and beauty will be helped by those sweaty cardiovascular movements and those weight-baring repetitions.
Nick Prukop and Dr. Carol Francis also discuss the power of nutrition and nutritious supplements to deal with the changes of aging. Men for instance need to examine the impact of losing testosterone and how that impacts their inclination to be motivated, optimistic, positive and happy.