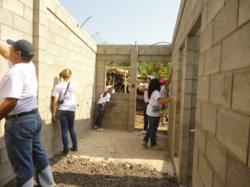 It is very inspiring and motivating for both associates and senior executives to work together, side by side, in these volunteer programs.
Westerly, RI and San Salvador, Republic of El Salvador (PRWEB) May 08, 2012
For the second consecutive year, George C. Moore Company's associates in El Salvador have volunteered with Habitat for Humanity to build and paint houses for families that live in Los Buenos, Ahuachapán. The community is located approximately two hours away from the capital city of El Salvador. Enhancing the community and quality of life for residents and associates is an important reason for the volunteer effort.
"It is important for us as a team to take some time away from work and recognize that there is a larger purpose in life than just meeting financial and productivity goals," said Andrew Dreher, Senior Vice President. "We came to El Salvador for economic reasons and find that we have made new friends as well as business partners. Teaming up with Habitat for Humanity helps us help our neighbors while bringing some balance, some perspective to our lives and work here."
The narrow fabric manufacturer incorporated volunteer work as part of its corporate programs in El Salvador shortly after arriving in the country. "We find that volunteer work allows associates to contribute to their communities while motivating them to continually develop and practice leadership and communication skills," says Monica Tamacas, Human Resources Manager. "It is very inspiring and motivating for both associates and senior executives to work together, side by side, in these volunteer programs. Associates simultaneously get the opportunity to put into practice and nurture new leadership and supervisory skills they don't normally experience in their day to day work activities. "
"For us social responsibility starts inside the company" says Jaime Campos, General Manager. He explained, "Besides complying with government labor and environmental regulations, George C. Moore continually invests in improving employee's personal and technical skills and has implemented occupational health and safety programs to protect employees. Other initiatives in place include: subsidized daily meals for all employees; a subsidized 'food co-op program'" including a bag of basic grains, sugar and cooking oil to be used at home. Furthermore, George C. Moore provides an annual allocation for employee's children for school supplies."
About George C. Moore
Besides servicing underwear and intimate apparel markets, George C. Moore Company also supplies printed, Jacquard and knit narrow elastic for athletic compression, men's and women's slacks, performance apparel, dancewear, swimwear, orthopedic & medical, industrial and safety markets. Their value added services include cutting and looping, fabricated waistbands, silicone applications, technical finishes, permanent fire resistance, among other technical performance or value added initiatives.
George C. Moore is a division of The Moore Company, founded in 1909 and still focused on innovation. Sister divisions include Darlington Fabrics, Fulflex, Moeller Marine, Moeller Plastics, and AMER-SIL.
The Moore Company manufactures products in the United States. International manufacturing facilities complement domestic capabilities while serving regional markets around the globe.