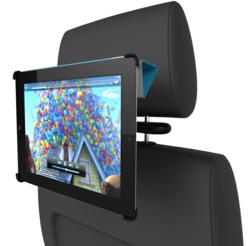 Are we there, already?
Carlsbad, CA (PRWEB) May 10, 2012
TouCoul, a company recognized for delivering high quality, premium accessories, is proud to introduce their newest CoulVue car mount for the iPad 3rd generation. The new CoulVue headrest mounting system makes it easier to appreciate all that the newest creation from Apple has to offer while on the go.
Once again, the new iPad has set itself apart from the pack with amazing features like a retina display and HD camera. The iPad headrest mount makes it easy to use some of the best car apps for iPad, turning this mobile powerhouse into the only device that consumers will need while traveling.
The new CoulVue headrest mount has been designed specifically with the new iPad in mind, which means that it features a level of fit and finish that consumers expect when purchasing premium accessories for their premium devices. Within just a few minutes, a person will be able to do everything from playing games to surfing the web while letting the mount hold their device for them. The CoulVue will make quick trips across town or even cross-country drives more enjoyable for the entire family.
Orders for CoulVue for the new iPad will begin on May 10th. With a one-year warranty and world-class customer service, this is the accessory that every parent should purchase in order to keep their sanity and make the next family trip more enjoyable for everyone involved.