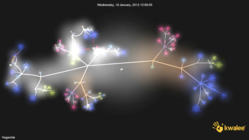 Leamington Spa, Warwickshire, United Kingdom (PRWEB) May 10, 2012
Games are played by many hundreds of millions of people around the world, but very few gamers have much insight into the development process. Also, whilst many young people aspire to work in the game industry they often have little idea what that work might entail.
To help gamers get a broader view of the work behind the creation of their entertainment, the development staff at Kwalee, creators of Gobang Social for iOS, have written a whole series of articles that lift the lid on what they do when working on games. These articles now form a unique resource about several elements of the development process.
Here is just a small selection of the content:
Gaming Curiosities:
A series of currently 5 articles written by Micro Machines designer, Andrew Graham, who is now Gameplay Guru at Kwalee.
http://kwalee.com/?s=gaming+curiosities
Alexei's Creative Wednesdays:
5 articles about game concept art by Alexei Lundgard.
http://kwalee.com/?s=creative+weds
Tales From The Code Mines:
4 articles about programming from James Munro.
http://kwalee.com/?s=tales+from+the+code+mines
This series includes some fantastic videos, generated from our programming code to show how much a game grows while in production.
http://youtu.be/TUzOgZuYfAc
There are many more articles like these and they are continually added to by our talented development staff.
Kwalee CEO David Darling explains the reasoning behind creating and publishing all this content:
"At Kwalee we want to be as open as possible and to engage with potential players of our games. So it makes eminent sense for us to explain what we do in our daily work. Also we feel that it is both interesting and useful for the broader public to have a greater understanding of the game development process".
You can find all of this insider information at kwalee.com and discover the company's first iPhone game, Gobang Social, which is out now on the App Store.
kwalee.com/gobangapp
About: Kwalee is a startup company based in Leamington Spa to develop and publish apps for mobile devices. Founded by David Darling CBE who has many decades of experience at the top level of the video game industry with contributions to very many #1 games on many platforms in his CV.  Kwalee is different.  We seek to excite and entertain our customers with innovative new products that provide special experiences.  Our ethos is based around a set of core values that put the customer first and which harness the creative skills of our staff to the maximum in order to do so. Kwalee is still at its beginning and so is very actively recruiting those special people who want to join us in our exciting journey.
Check out our website: http://www.kwalee.com, Facebook page: facebook.com/kwaleeteam and Twitter @kwaleeteam for more information.