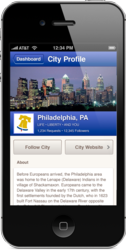 The new state of the art app will engage citizens across all devices in ways never achieved before
Philadelphia, PA (PRWEB) May 09, 2012
Philadelphia, May 7, 2012 – The City of Philadelphia announced that a vendor has been chosen to produce a 311 mobile application to help Philadelphians file service requests. The app will work across platforms, including iPhone, Android and others, will directly integrate requests into the City work order systems and will allow users to submit requests through Facebook and Twitter. City officials expect the app to be ready by Labor Day.
"The new state of the art app will engage citizens across all devices in ways never achieved before and will allow Philadelphians to have City government at their fingertips," said Richard Negrin, Deputy Mayor for Administration and Coordination and Managing Director.
Chief Innovation Officer Adel Ebeid said, "This is yet another innovative approach for using technology to bring residents closer to their government. In many instances, 311 is the front door to government and the new Philly311 mobile app is yet another tool for streamlining the feedback and interaction process."
PublicStuff, a New York City-based company with Philadelphia roots, has agreed to produce the app as part of an $18,000 one-year contract. The company was chosen through a competitive process by a working group comprised of representatives from the Office of Innovation and Technology, 311 and the Managing Director's Office. Four proposals were originally received.
PublicStuff Founder and CEO Lily Liu said, "We are thrilled to work with the City of Philadelphia to build out their 311 service request tool. The project is especially meaningful to us since we launched our company, PublicStuff, in the City of Philadelphia and consider it home. The Philadelphia Mayor's Office has already proven to be a leader in technology initiatives. We're excited to see them incorporate the app and tool to further enhance city services and engage residents in a new, innovative way."
App users will also receive "push" notifications when their service request is updated, will have the option of anonymous reporting and will be able to view existing requests on a map.
The selection is a great example of Philadelphia as a hub for entrepreneurship and innovative businesses. The organization began in a Philadelphia business incubator, Good Company Ventures, which was sponsored by the Nutter Administration. The company focuses on solving community issues through mobile tools. More than 110 cities currently use PublicStuff technology. The company will open a satellite office in Philadelphia in conjunction with one of its investors, First Round Capital. PublicStuff is a minority- and woman-owned business and is currently filing for MBE/WBE certification.