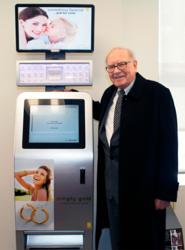 It was very cool and more convenient than shopping on the web because I got my product immediately. It's the best of both worlds!

--jewelry kiosk customer
(PRWEB) May 09, 2012
An Important Announcement from Richline Group, Inc.
Richline Group, a Berkshire company, debuted the innovative approach to reaching the consumer on May 5th in Omaha. The attractive, sleek kiosk looks like a mix between an ATM and a vending machine, and it's aimed at making shopping for jewelry quicker, easier, and more convenient and with substantial information generally only available from knowledgeable sales people.
The "Precious Express" kiosk is a creation 18 months in the making and shareholders got the first look at it Saturday at the shareholders expo at the CenturyLink Center. The machine Saturday was stocked with jewelry and other items, such as gold coins and sterling silver money clips from Borsheims Fine Jewelry.
The kiosk, with a footprint of just 2 sq. ft., delivered a convenient and unique experience for shoppers, including the ability to browse product information on the kiosk's large touch screen, accept payment for items purchased, and dispense the purchases on the spot. In the words of one happy customer, "It was very cool and more convenient than shopping on the web because I got my product immediately. It's the best of both worlds!"
Mark Hanna, Chief Marketing Officer of Richline, said the company will start distributing the kiosk this fall. Hanna said they are ideal for retail stores, professional business offices, upscale hotels and airports. It can hold up to 72 different items — with adequate back stock on each item within the machine. It can be re-stocked as needed and is digitally sealed for security.
About Richline Group, Inc.
Richline Group, Inc., a wholly-owned subsidiary of Berkshire Hathaway Inc., is a leading worldwide Precious Metals Manufacturer and Marketer. Berkshire Hathaway, and its subsidiaries, engage in diverse business activities including property and casualty insurance, utilities and energy, finance, manufacturing, retailing and services.
For More Information:
Mark Hanna
PH: (212) 886-6212