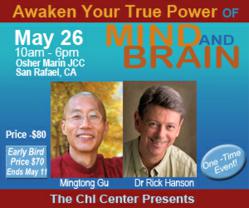 "Doing practices like Qigong or forms of mindfulness training are really, really good in building up neuro tissue in parts of the brain that control attention … as you use your mind, you can actually change your brain for the better." --RIck Hanson, PhD
(PRWEB) May 09, 2012
On Friday, May 11 the Early Bird Discount Ticket price ends to attend the Saturday, May 26th Awaken Your True Power of Mind and Brain Event with two great experts bringing together western science and eastern mindfulness on one stage Live In-Person in San Rafael CA and Online Live-Streamed.
Learn how a mindful practice changes the brain to be more awake and capable, why it is important to begin at any age, and the mindful practice steps to build a better brain. Qigong Master of the Year Master Mingtong Gu and guest speaker Neuropsychologist and author of Buddha's Brain, Rick Hanson, PhD will lead the day's workshop events. They will answer the questions and teach the practices that can benefit every person, parent, youth, elder to awaken the mind and brain to its full capacity and maintain it.
Dr. Hanson explained "Doing practices like Qigong or meditation or other forms of mindfulness training are really, really good in building up neuro tissue in parts of the brain that control attention … as you use your mind, you can actually change your brain for the better." Mingtong Gu added "Qigong trains the mind energetically to work with the body, work with the brain, working to produce more benefit."
Ticket price is $70 until May 11th, and then it is $80, for the full day workshop event on Saturday, May 26th from 10am – 6pm PT. Presented by The Chi Center, this event offers the choice to attend the Live In-Person event that will be held at Osher Marin JCC in San Rafael, and/or watch the Online Live stream or later a recording.
Visit the http://www.chicenter.com website and watch Dr. Hanson and Master Gu In Conversation about "A Qigong Mind, A Benevolent Brain". This conversation gives a preview of what will be explored on May 26th, presenting what is important in the education of the mind and brain to thrive through aging, illness and stress.