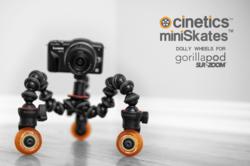 miniSkates help compact camera and camera phone users create stunning camera movement!
Austin, TX (PRWEB) May 09, 2012
Cinetics™, the creator of CineSkates and CineSquid, is already launching more ingenious video products, including the miniSkates Video Dolly and a Universal Phone Mount.
Cinetics Founder Justin Jensen says, "miniSkates help compact camera and camera phone users create stunning camera movement. And the new miniSkates dolly is even more affordable than big brother, CineSkates."
miniSkates, a smaller version of Cinetics' successful CineSkates product, are a set of wheels that attach to the GorillaPod® SLR-Zoom tripod to create a portable and versatile dolly system. miniSkates work with cameras up to 1.5 pounds, which includes compact cameras, smart phones, and point of view cameras like GoPro® and Contour®. miniSkates are the first product of the Cinetics mini system™ lineup, and the Cinetics team is already working on the next mini components!
miniSkates can be purchased now as a complete miniSkates System that includes the required GorillaPod SLR-Zoom and a ballhead for $150 or on their own for $95. miniSkates are available now from the Cinetics Store and B&H Photo Video and will soon be available in stores world wide.
Want to use your Android with miniSkates? Cinetics new Universal Phone Mount will mount most phones to nearly any camera stabilizer or tripod. Mounts for the iPhone 4 & 4S and GoPro cameras are currently available from Cinetics. Regular cameras work with the Cinetics systems as is, without the optional specialty mounts.
The new Skate Surface is a durable, smooth platform that enables users to create perfect moving video nearly anywhere; the Skate Surface is the ideal companion for CineSkates and miniSkates tripod dollies. It allows you to turn any flat area, including sand, gravel, and grass, into a dolly surface. The high density polyethylene Skate Surface measures 13.5 in x 32 in and has a convenient carrying handle.
Jensen says, "Our goal is to get your cinematic ideas in motion, and these new products allow anyone to create high-quality moving video with the cameras in their pocket."
About Cinetics™
Cinetics™ was founded in Austin, Texas with one major goal: to create innovative tools for filmmakers that combine the power to captivate with the luxury of portability. For information about Cinetics, visit http://www.cinetics.com.
Contact:
Email: info(at)cinetics(dot)com
###