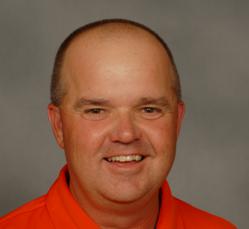 I am a huge advocate for leading a healthy lifestyle, and preach making good decisions to the athletes and staff I work with," Clemson's Danny Poole, WellBalance Advisory Board member
Clemson, SC (PRWEB) May 11, 2012
Danny Poole, Director of Sports Medicine at Clemson University, has been named to the Scientific Advisory Board for WellBalance, a leading health, fitness, and weight loss camp helping kids and teens ages 10 – 20 as well as food and fitness boot camps for adults aged 20-30.
Poole was invited to become a member of the WellBalance Advisory Board due to his reputation and accomplishments in the field of athletic training. At Clemson University, Poole creates treatment policies and oversees a staff of 30 professional & student clinicians to ensure that injured athletes are properly diagnosed and treated so that they can get back on the playing field as quickly as possible.
"I am very honored to be invited to join the WellBalance Advisory Board," said Poole. "I am a huge advocate for leading a healthy lifestyle, and preach making good decisions to the athletes and staff I work with. I believe that eating well and staying active are key components to living a quality lifestyle."
Poole's accomplishments and professionalism are so respected by his peers that he received the 2001 Athletic Trainer's Service Award from the National Athletic Trainer's Association. In 2010, Poole was awarded the Fred Hoover Award of Excellence by the South Carolina Athletic Trainers Association, and was named the President of the Atlantic Coast Conference Sports Medicine Association.
"Mr. Poole's expertise in treating athletic-related injuries will be an invaluable asset for our WellBalance weight loss camp and adult boot camp clients and staff members," said John Taylor, Vice President of Programs for WellBalance and a celebrity fitness expert. "Previously sedentary individuals who are working hard to lead an active lifestyle tend to be more prone to injuries. Due to Mr. Poole's expertise in treatment modalities, WellBalance clients are now in a better position to develop skills and engage in their favorite activities. As a result, Mr. Poole will help WellBalance and those that we work with reach their health-related goals much fast that they ever imagined."
Poole is a NATA-BOC Athletic Trainer. He earned a masters degree in health education from the University of Memphis, and a bachelor's degree in health & physical education from Western Carolina University. Prior to Clemson, Poole worked in the Sports Medicine departments for both Western Carolina & the University of Memphis, and was also the head athletic trainer for the Carolina Chargers of the American Football Association.
About WellBalance
WellBalance designed the ME Plan to Motivate & Educate on what medical research shows works for sustainable fitness, weight loss, and health success. Founded by professionals and guided by experts who have led some of the largest behavioral health, mental health, and treatment programs in the country, WellBalance is working to become the leader with a focus on improving an individual's overall health. WellBalance developed the WellBalance Health Score© to rate a person's overall medical, emotional, and fitness health status as well as show a person's progress towards health norms. WellBalance operates summer camps, local programs, and fitness programs for adults. For additional information please visit http://www.wellbalance.com or call (800) 975-0435.