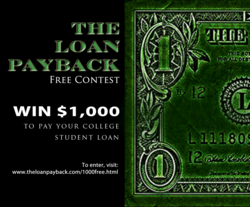 New York, NY (PRWEB) May 13, 2012
The Loan Payback will hold a live drawing to give away $1,000 at The Uptown Dance Academy, 167 East 121st Street on Friday, May 25, 2012 at 6:30 PM. This free drawing is designed to convince anyone with school loan debt to join in the educational agency's grass-roots effort to eradicate school loan debt one winner at a time. Open to anyone holding a current college loan balance. Visit http://www.theloanpayback.com/1000free.html to enter.
The bigger events held several times a year involve a text keyword-driven promotion and sell $1 citation and grammar reference tools to complete writing assignments. After covering costs, the residual money pays off the loans of lucky people up to $20,000. Users can text keyword LOANPAY to 48510 safely and securely from an iPhone, Android or other device to enter.
The contest will also serve as the spring board for The Loan Payback to establish public trust and show that it, indeed, pays out the money to the winners. A Winners page on the website will profile the inaugural and subsequent payment recipients.
For more information about this topic, please call Damon Ferguson at (718) 679-8359 or e-mail: press(at)theloanpayback(dot)com
# # #