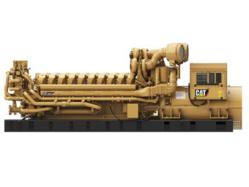 Peoria, IL (PRWEB) May 11, 2012
Design engineers and customers got their first look at the new 4MW Cat C175-20 high speed diesel generator set during a special event, held April 22-26, 2012, in Lafayette and Indianapolis, Ind.
The main event kicked off on Tuesday, April 23, with a presentation by Tom Eberlin, General Manager of Caterpillar Electric Power Americas. His discussion began with the history and growth of the Caterpillar Electric Power Division. He continued with information on the innovative electric power products and services offered today. The day progressed with a series of seminars, giving guests the opportunity to earn Continuing Education Units (CEUs) within their field of specialization.
The previous evening, over 400 Caterpillar customers attended a VIP event hosted by Electric Power, Cat Finance, Cat Insurance and more than 40 Cat dealers. Entertainment included a "mock" pit crew experience where "technicians" went head-to-head in a series of competitions.
On Wednesday, William J. Rohner, Caterpillar vice president with responsibility for electric power, greeted the audience and spoke about the future of electric power as it relates to the ever-increasing demand for power worldwide.
During the event, groups were split between seminar sessions and a tour of the Lafayette Large Engine Center. Also on display was a product fair showcasing Caterpillar's newest technologies and an endurance site where the C175-16, Tier 4 Interim 3MW diesel generator set was in operation obtaining its final validation hours prior to its formal release.
The event concluded with a press event, where the power generation's leading industry editors and journalists toured the Lafayette facility and met with Caterpillar engineers and consultants.
Thus far, feedback from the event has been very positive. Eberlin said, "It is important to invest time with our consultants and customers. It is their input that helps drive future product design and engineer better solutions to meet their needs."
Caterpillar is a leader in the power generation marketplace with power systems engineered to deliver unmatched durability, reliability and value. The company offers worldwide product support, with parts and service available globally through the Cat authorized service and dealer network. In addition, dealer service technicians are trained to service every aspect of Cat equipment.
For more information, visit http://www.catelectricpowerinfo.com/pr or e-mail cat_power(at)cat(dot)com. To interact with other power generation professionals in our online community, register at http://www.catelectricpowerinfo.com/connect.
# # #
About Caterpillar
For more than 85 years, Caterpillar Inc. has been making sustainable progress possible and driving positive change on every continent. With 2011 sales and revenues of $60.1 billion, Caterpillar is the world's leading manufacturer of construction and mining equipment, diesel and natural gas engines, industrial gas turbines and diesel-electric locomotives. The company also is a leading services provider through Caterpillar Financial Services, Caterpillar Remanufacturing Services, Caterpillar Logistics Services and Progress Rail Services. More information is available at http://www.caterpillar.com.
About Hawthorne Power Systems
Hawthorne Power Systems, an authorized Caterpillar dealer, provides sales, rentals and services the power generation, marine, trucking and other engine-related markets. It has outstanding skills in building, rebuilding and packaging engines and power systems of all sizes, ranging from truck engines and turn-key generator plants to cogeneration and standby power. Located in San Diego (Kearny Mesa), California, this division also has branches in Hawaii and Guam. For more on Hawthorne visit http://www.power.hawthornecat.com
CAT, CATERPILLAR, their respective logos, "Caterpillar Yellow", the "Power Edge" trade dress, as well as corporate and product identity used herein, are trademarks of Caterpillar and may not be used without permission.
© 2012 Caterpillar
All Rights Reserved
Cat® C175-20 Diesel Generator Set