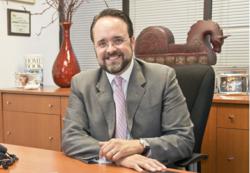 Selling South Florida to the World!
Miami, Florida (PRWEB) May 11, 2012
It's official! Recent news reported by the Standard and Poor Index, are signaling Miami, as one of the cities in the Nation, along with Phoenix and Washington D.C., where the housing recovery is starting to take place. Another statistics by the National Association of Realtors® show that 31% of all buyers in Florida are foreign and that now more than 95% of all homebuyers initiate their property search on the Internet.
"Focusing on the recent news and numbers, not only makes sense but its imperative for us to expand and improve our international referral program. Our network of Broker-affiliates actually operates in 20 different countries and is integrated by more than 120 member-affiliates, and now to complement our program we are launching our new website, that will serve as a display of South Florida's new and resale properties," said Emilio J. Cardenal, Broker and Executive President of Interinvestments Realty®.
"The International business in Miami is growing exponentially. Foreign buyers are attracted to Miami by its warm weather, relaxed lifestyle and cosmopolitan population, and here they can find many colonies of their own countries, speaking their native language, and sharing their customs and culture," continues Cardenal.
"Our marketing program is weaved around the premise that the international homebuyer is a very important member in our community, and will have extraordinary implications on the future of our local economy. Consequently, some time ago we started making the necessary connections with different Brokers abroad. Rules and regulations where crafted in order to establish a systematic approach to handle the Broker-to-Broker referrals, along with the proper paperwork to guarantee the success of each transaction," adds Cardenal.
"But without a doubt, the most important part of our international services is the launching of our new International website, which will connect us worldwide 24/7. Our Broker- affiliates can integrate their local business connecting with our website, and completing their referral business online. But what is more important is their access to the South Florida's housing market. Now they can showcase New Development on their own web portal! International buyers and Internet homebuyers are here to stay, and this is one of the ways that we will be conducting our business in the future," concludes Cardenal.
For more information on how to participate in our Affiliate Broker Referral Network, or know more about our properties and sales opportunities, e-mail to: affilites(at)interinvestments(dot)com
Connect to the World! Participate! Give your business a Global edge!