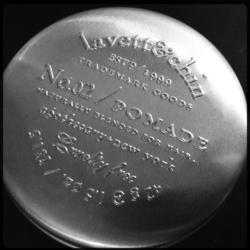 New York, NY (PRWEB) May 15, 2012
LAVETT&CHIN®, a NYC apothecary company with a focus on utilizing natural, quality ingredients introduces the No.02 Pomade.
The philosophy of Lavett & Chin goes far beyond natural products. Each and every blend is formulated with ingredients that are not only functional and beneficial, but environmentally and socially friendly as well. What makes Lavett and Chin distinctive is not just the use of high quality ingredients, but the profusion of them in each blend, thus producing some of the worlds finest, innovative products.
The No. 02 Pomade is part of Lavett & Chin's grooming series. It is formulated for both men and women to aid in adding texture and providing a light hold for a finished (or unfinished) look. The No.2 Pomade includes both Mango and Shea butters, which will aid in the conditioning and softening of the hair. Also incorporated in the No. 02 Pomade are several beneficial essential oils, such as Organic Ginger Root oil from Madagascar, Organic Ylang Ylang oil and Organic Bourbon Vanilla Seed oil, which will also aid in conditioning and manageability.
Suggested direction of use: Use no more than a dab (approximately half a dime size amount). Rub No.2 Pomade in hands, as this will warm product and aid in an even distribution.
Apply as desired to gently towel-dried damp hair or dry hair. Allow the No.2 Pomade to remain in hair and style as usual.
For longer hair types or fine hair types start at the ends not the scalp. After one or two uses you will find the perfect way to use No.02 Pomade.
Normal shampooing will be sufficient in cleansing the hair of the No.02 Pomade. It washes out very easily.
The No. 2 Pomade was released March 2012 and has partnered with J.Crew for its launch (Brent Lavett is the hair designer for its Mens' collection). It is available at http://www.jcrew.com both in the United States and Worldwide (selective J.Crew retail stores to follow) and at http://www.lavettandchin.com.
The No.2 Pomade will be closely followed by many more new and innovative formulations.