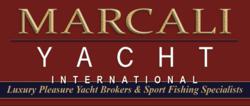 Ultimately, we built our site to help water enthusiasts of every level discover the spirit and excitement of boating everywhere.
Fort Myers, FL (PRWEB) May 14, 2012
Marcali Yacht Brokerage & Consulting, headquartered in the downtown River District of Fort Myers, Florida, announces today the launch of an entirely new and interactive website. The new website centers around increased functionality and accentuates an ease of navigation including customized, feature vessel listings, a vast array of expanded brokerage services, an on-line yacht management program and a full fledged maritime-community boating forum.
"Each aspect of the site unites the visitor with services, boating information for every size of boat, tools and topics that include new builds/refits all the way to charters and destinations," states Marc Harris, CEO of Marcali Yacht International. "The site is a one-stop-resource for boat buyers, sellers and all-round water enthusiasts," continues Harris. "The new enhanced site evokes feelings that one would associate with boating and makes you want to get out of the office and onto the water."
The newly designed home page provides a user-friendly dashboard, enticing imagery and a streaming video portal for the latest in yachting and boating news, or video walk-throughs of featured boats for sale.
The Marcali Yacht website provides resources and opportunities to consumers and the boating industry locally, regionally, and globally.
The interactive features of the site allow visitors the ability to:
Connect with Marcali Yacht via Facebook, Twitter, LinkedIn and other Social Media outlets.
Join the Members' Forum located in the Members' Login tab, to interact with fellow boaters, or "Ask the Experts" a technical question, or just share personal experiences.
Learn about Marcali's Yacht Certification Program.
Request Maintenance & Repair.
List a boat for sale.
Inquire about careers in Yacht Brokerage in Florida.
Custom design your own Yacht Management Program.
This exciting revitalization of the website encourages site visitors to explore the services offered by Marcali, retrieve informative content, and become more directly connected to the boating and maritime lifestyle.
About Marcali Yacht Brokerage & Consulting
Marcali Yacht Brokerage is a recreational and commercial yacht brokerage firm with yacht management and boat consulting divisions. With a unified vision and expanded services beyond traditional yacht brokerage dealerships, Marcali provides the highest degree of professional expertise, personal attention to every detail and a commitment based philosophy that has become the trademark of its business. The brokerage firm, under the guidance of Marc Harris works in close partnership with every client and member to deliver expertise, insights and knowledge to every facet of the boating industry. Marcali stays connected with you. For more information visit http://www.MarcaliYacht.com.
Photography Available upon request
###