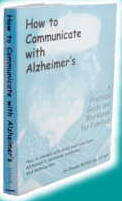 Susan Kohler's book pragmatically offers nine techniques for increasing the satisfaction of connecting and communicate with Dementia and Alzheimer's Patients or Family Members.
Los Angeles, CA (PRWEB) May 11, 2012
Dr. Carol Francis interviews Susan Kohler about Nine techniques which help Caregiver's of Dependent Adults on Dr. Carol Francis Talk Radio Show, airing May 11. Afterward, the interview is immediately available through podcast or download at BlogTalkRadio.com/dr-carol-francis or Communicating with Alzheimer's. Interview podcast also available through itunes.
Nine methods of communicating with dependent adults suffering from dementia are based on Susan Kohler's multiple years of treating patients and working with caregivers who are medical professionals or family members. This is an extremely hands-on and helpful interview and also very sensitive to the severe difficulties associated to the caregiver's work with dependent adults. Do not miss this interview.
Susan Kohler's very helpful material are also available at grpublishing.com.
Make Life Happen Publishing will release ebook and paperbook editions of the book jointly written by Susan Kohler and Dr. Carol Francis entitled "Caring for the Caregivers of Dependent Adults with Dementia and Alzheimer's."
Dr. Carol Francis explains, "Any form of dementia, including Alzheimer's, causes the sufferer to loose memories and the ability to connect with loved ones. The stress and disappointing sadness that family members, friends and caregivers experience when dementia takes over often interferes with the emotionally satisfying experience of connecting, through communication, touch or shared experiences."
Susan Kohler, a Speech Pathologist, has discovered ways to help family and friends of dementia sufferers reconnect with their loved one in ways that are touching, moving, satisfying and amazing. This hour interview provides listeners with a 9 step roadmap toward reconnecting with Alzheimer sufferers who are loosing their way, their loves and their Selves. Call ahead with questions to Dr. Francis at 310-543-1824; review the book How To Communicate With Alzheimer's by Susan Kohler at BookEnergy.weebly.com or contact Dr. Francis at drcarolfrancis.com or MakeLifeHappenNow(at)gmail(dot)com. Or contact Susan Kohler at SusanKohler(at)grpublishing.com.