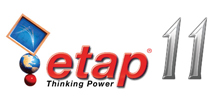 We are thrilled to be able to display the features of ETAP software on the big screen at Cineplex Theatres
Edmonton, AB (PRWEB) May 15, 2012
ETAP Canada Ltd. in conjunction with ETAP/Operation Technology, Inc., is pleased to host its first-ever Canadian national ETAP 101 webcast on May 23, 2012. Clients and potential users can register for this free 4-hour event to learn about ETAP's premier state-of-the art tools for the design, operation, and management of power systems. Participants can expect to leave with a better understanding of how to solve some of their power system challenges, and how ETAP software can significantly simplify and speed work. Some of the newest features and capabilities in the ETAP enterprise solution software will also be showcased. Additionally, attendees will qualify for 4 professional engineering credits.
"We are thrilled to be able to display the features of ETAP software on the big screen at Cineplex Theatres," says ETAP Canada Ltd. President Darcy Braun, "and it really gives us the chance to look at every aspect of the software in a very direct and meaningful way with our present and future users." Attendees can join ETAP Canada representatives at a local Cineplex movie theatre to watch the event with colleagues, clients, and their guests, or the event can be seen live, online from any computer or boardroom with high-speed internet access.
Some of the topics to be featured are AC and DC power system analysis simulation, project management, modeling of solar and wind systems, the latest changes to Arc Flash standards, as well as enhancements to real-time SCADA/EMS solutions.
Participating Cineplex theatre locations include Vancouver, Calgary, Edmonton, Mississauga, Toronto, and Montreal.
ETAP Canada Ltd. expects an impressive turnout attending the theatre event and viewing the webcast live on May 23rd. Attendees are encouraged to join in with live feedback via Twitter, Facebook, LinkedIn, and the ETAP Blog.