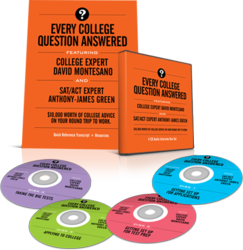 This idea of the "Jack of All Trades, well-rounded applicant" couldn't be more misguiding. Schools want well-rounded classes, not well-rounded students.
New York, NY (PRWEB) May 12, 2012
Most parents are well-familiar with the idea of the "well-rounded student." As the story goes, the student who's most capable in the most different areas will have the best chances of admission at the nation's most competitive schools. A new interview between two of the country's leading college experts, David Montesano and Anthony-James Green, violently debunks this myth and points instead toward the importance of specialization.
Montesano, a world-renowned college admissions consultant and founder of College Match College Consulting, had this to say about the overall message of the interview: "Your grades and your test scores open the door for you, but if there's nothing behind the door, you're in big trouble. Students without a specialty of some sort or another are at a massive disadvantage when it comes to college admissions. Students need to pick an area of expertise as soon as they possibly can, and they need to form their applications to reflect that expertise. If they don't, they're never going to stand out to admissions officers."
The interview between Green and Montesano, now being sold as a new audio product called Every College Question Answered, came about as a result of the lengthy, and often frustrated, conversions that the two college specialists often shared. Green, president of Test Prep Authority and widely considered as the leading SAT expert in the country, spoke in length about the reasons why their interview was recorded:
"I'm a test prep expert. That's all I know, and I spend all my time learning more about ways to teach the SAT and ACT effectively. The problem is that all of my clients are going through the college process, and they often look to me for college-related expertise that I don't have. Similarly, David's clients are all going through the test prep process, and they're always looking to him for SAT and ACT guidance - but, again, he's not an SAT tutor - he's a college specialist. We often have to call each other and refer clients to each other just to make sure that they're totally taken care of. Our areas of expertise are two pieces of the same puzzle, but no one has ever bothered to put that puzzle together before and create a cohesive resource for college advice.
A few months ago, Green and Montesano set aside a few hours to "pick each others' brains" and get all the necessary information they needed to answer their clients' most common college questions. Green needed to learn more about the college admissions process, and Montesano needed to learn more about the test prep process.
"I could raise a students' SAT score by hundreds of points, but I had no real idea what the difference between Early Action and Early Decision was," jokes Green of the process. "Similarly, David wasn't sure whether his students should take the SAT or the ACT when they were gearing up for test prep. These are absolutely essential decisions, and we set aside a full day to get all of our questions answered."
At the end of their conversation, Green and Montesano immediately realized that they needed to record it and make it available to students and their parents. "It was insane how much ground we covered in such a short period of time," says Montesano of the finished product. "We combined two perspectives that sorely needed to be combined. Interestingly, it was the concept of specialization that kept coming up from both sides."
Montesano encourages students applying to college to forgo their peripheral activities and focus aggressively on the one or two areas where they can market themselves most effectively. "Colleges don't want some kid on three JV teams, in eight clubs, with a C+ average, mediocre test scores, and no idea of what he wants in life. They want to create classes full of specialists. They want an incredible athlete, an amazing architect, a passionate writer, etc. Students need to figure out what they want most out of life, pick the colleges who will give them the best chances of getting it, and make that case to the colleges they apply to."
Green's test prep strategy is nearly identical. "If a student wants to raise his SAT score, he needs to figure out exactly where he's weak, and then he needs to focus on that weakness like a laser. If someone isn't good at triangular geometry, she needs to eat, breathe, and sleep triangles until she's a triangle expert. If students pinpoint, specialize, and knock out their weaknesses one-by-one, they'll see meteoric test score improvements. David and I do very different things, but the concepts we teach are the same: hone in on what's most important, and let the rest fall to the wayside."
Students and parents interested in purchasing the interview, which comes with four hours of audio, a quick-reference transcript, and members-only access to an online resource center, can do so at:
http://www.EveryCollegeQuestionAnswered.com
They can learn more about David Montesano and his firm, College Match College Consulting by visiting the following site:
Every College Question Answered was recorded and is distributed by Test Prep Authority, Green's online center for ACT and SAT practice and resources. Parents can learn more about Green's services by visiting his personal site at:
http://www.NewYorksBestSATtutor.com
###