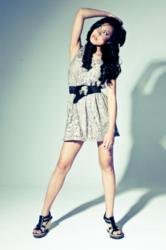 I absolutely love posing!
London, UK (PRWEB UK) 15 May 2012
As they launch another modelling portfolio online, La Mode London toast a teenager's talent for perfect posing.
Having just celebrated her 15th birthday, stunning teen model Jodie Lee seems much older than her young years. With her brand-new modelling portfolio just launched online by model advice experts La Mode London, this newborn model admits she got bitten by the modelling bug at a very early age.
'I have always aspired to be a model and singer and I enjoy nothing more than having my picture taken, a passion that began when I was a small child,' she comments. 'It just comes naturally to me, I absolutely love posing!'
La Mode think Jodie will be successful in living her modelling for teenagers dream, despite her inexperience and young age. Being confident and so young is certainly a great modelling asset to have they say.
'Like her teen modelling peers, Jodie realises she has a lot to learn which is why she came to La Mode in the first place, explains Helen Smith, director for La Mode London. 'A modelling portfolio and professionally designed website is simply the natural first step for any model to self promote. The rest is up to them but we are always here to help where we can, if a model needs our advice.'
Helen goes on to say, 'Jodie is determined to become famous and hopes that she can become an inspirational role model for young girls around the world. Jodie's hobbies include dancing and singing and she is currently taking singing lessons, which is a great quality to have and can only add to her confidence,' says La Mode.
Jodie's inspirations are Kelly Rowland, Jesse J, Katie price and Pixie Lott and La Mode feel her strong female role models will certainly add to her own strength and convictions, to help her make it in the modelling industry.
'We are all we are very proud of our girl power here at La Mode, and it was a real pleasure to showcase Jodie's potential. She is a teen model with great ambition and is willing to try all sorts of modelling. With her striking and exotic looks she would be great in advertising and commercial modelling, art modelling and catalogue modelling. She also has a keen interest in catwalk, fashion and promotion modelling so would be happy working in these fields along with glamour and lookalike modelling.'
With her brand-new portfolio now available online, Jodie knows La Mode have given her the best chance she can have to make it with promotion.
'She also knows that we are only at the end of the phone with much more model advice whenever she needs it,' continues Helen.
It seems that a modelling portfolio is just one step to take get anywhere in the wonderful world of modelling, with ongoing advice always on hand, La Mode can reassure any teen model hopeful they are there to help, whenever they are needed.
Visit http://www.lamodelondon.com and view lots more modelling portfolios launched by the photographic experts on a daily basis.