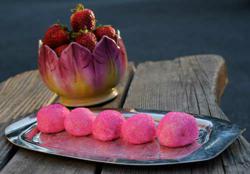 We're using white chocolate to let the delicate assertiveness of these two ingredients come through more prominently
(PRWEB) May 15, 2012
Spring means fresher, lighter, more vibrant flavors and in celebration, Ecole Chocolat founder and professional chocolatier Pam Williams has conjured a delicious sweet that uses two of our favorite spring-time treats: strawberries and rhubarb.
"We're using white chocolate to let the delicate assertiveness of these two ingredients come through more prominently," says Williams, also the school's head instructor.
Williams, a teacher by training and a pioneer in online education programming and learning methods, began her chocolate career in 1981 with au Chocolat, one of the first fine chocolate shops in Vancouver, B.C.
"I knew nothing about making chocolates commercially. It was a trial by fire so I wouldn't recommend that strategy for anyone – but we were still successful because we quickly learned what we didn't know."
What Williams had lacked in business knowledge had been augmented by plenty of home experience with confections and baking. "I was always the baker and confection maker in my family, starting in my early teens. Over the years I developed my favorite chocolate and confection recipes which I used to start my business," she says.
Now overseeing a successful online professional chocolate school that draws students from around the world, Williams keeps up with all the latest chocolate news, trends and production methods in order to keep her students at the forefront of the fine chocolate industry.
Working with any chocolate is challenging, and white chocolate is no exception, she says. "White chocolate is very soft as it basically only contains cocoa butter and dry milk powder, so you don't need much in the way of moisture, such as cream or fruit purée, to lighten it to a consistency that works great for truffles," says Williams. "And be careful with heat. If you get white chocolate too hot you'll find that the milk solids "burn" turning gritty and hard. Make sure to keep stirring the chocolate as you melt it.
Also make sure you do buy real white chocolate from reputable chocolate makers as some products billed as white chocolate may be made with artificial ingredients and won't give you the same results.
Although many professional chocolatiers rely on ready-made fruit pastes for their bonbons, Williams used a home-made fruit paste. "It isn't difficult but it does take time to cook the mixture down to its concentrated essence. It's much like old-fashioned jam that's been cooked until it's firm and thick," she says. And if you end up with more than you need for this recipe, use what's left over to top shortcake or ice cream. Here's the recipe.
Strawberry Rhubarb White Chocolate Truffles
Makes about 48 1-inch truffles
Ingredients:
Fruit paste
12 oz. cleaned and chopped fresh strawberries
8 oz. fresh rhubarb, chopped
½ cup granulated sugar
Truffles
1 lb. 6 oz. white chocolate, very finely chopped
6 oz. heavy whipping cream
6 oz. prepared strawberry rhubarb fruit paste
Method:
Place chopped strawberries and rhubarb in a stainless steel pan. Sprinkle sugar over fruit and stir through. Let stand to extract the juices for about 15-20 minutes. Place pan over high heat and bring mixture to a boil, stirring frequently. Reduce heat to low and cook, uncovered, for 1 ½ to hours, until very thick and the mixture has reduced down to about 12 ounces, stirring every 20 minutes or so.
Let mixture cool completely before proceeding.
Place chopped white chocolate in a heat-proof bowl. In small saucepan, over medium heat, bring whipping cream to a low boil and pour over chopped chocolate. Let stand for two minutes, then stir mixture with a spatula until chocolate is completely melted. Stir in cooled strawberry rhubarb fruit paste. Cover and let cool to room temperature, then chill in the refrigerator until firm – about 4-6 hours or overnight.
Form truffle cream into balls and roll in confectioner's sugar or in colored sugar. Keep refrigerated, or wrap airtight and freeze for up to 2 months.