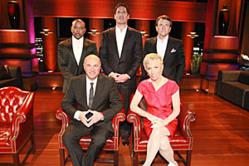 Los Angeles, CA (PRWEB) May 14, 2012
Every Week is Shark Week with ABC's new hit show Shark Tank. In its fourth season, it has become Friday night's No. 1 show beating CBS's Undercover Boss and growing its audience by 33 percent this season, according to ABC. This growing show stars five wealthy investors called "Sharks" who consider offers from striving entrepreneurs seeking investors for their business or product. These "Sharks" are no stranger to business as they each have their own unique road to success.
Barbara Corcoran, a real estate mogul, started out with a $1,000 loan and turned it into a $5 billion real estate company. Barbara led her lucrative New York City real estate business for 25 years, before selling it in 2001 for $70 million. This has only fueled her as she has kept busy as an investor, author, speaker, and media personality. She has expanded her investment portfolio with her Shark Tank investments that have included Daisy Cakes, designer Gayla Bentley, Grease Monkey Wipes, The Body Jac, Pork Barrel BBQ, and Ava the Elephant.
Robert Herjavec, technology mogul, built a phenomenally successful Internet security firm called BRAK systems which eventually sold for $100 million to AT&T. His entrepreneurial spirit did not stop there as he took on a position at RAMP Networks. Shortly after joining, Robert assisted in selling the company to another major telecom player, Nokia, for $225 million. This level of success was new to Robert and his family as they emigrated from Croatia to Canada for a better life. As a Shark, Robert has invested in a variety of products, including gourmet food company A Perfect Pear, Gift Card Rescue, My Therapy Journal, and Grill Charms.
Kevin O'Leary, software business entrepreneur, made his start in his small Toronto basement creating what is today known as The Learning Company (TLC). The Learning Company successfully launched popular educational computer games like The Oregon Trail, Reader Rabbit, and the Carmen Sandiego geography game franchise. With O'Leary's assistance, The Learning Company eventually sold for 3.2 billion dollars to the toy-making tycoons at Mattel. As a Shark, Kevin has invested in a variety of products including the Caffeindicator, a sweetener than changes colors in the presence of caffeine; Jump Forward, a social marketing tool for student athletes; and First Defense Nasal Screens.
Daymond John, fashion mogul, grew a homemade hat and t-shirt business into a globally recognized brand that grossed over 5 billion in sales called FUBU. His revolutionary urban brand made him a household name along with a sought-after entrepreneur. John is the jack of all trades as he is an author, consultant, branding expert, and professional speaker. In addition to his appearances on Shark Tank, Daymond stays busy with speaking engagements and media appearances. His most notable appearances include CNBC, Fox News, MSNBC, USA Today, CNN, and Black Enterprise. As a Shark, Daymond has invested in a variety of products including including One Sole, Wurkin Stiffs, HillBilly Brand, Lightfilm, LipStix ReMix, and Hells Bells Helmets.
Mark Cuban, Internet business entrepreneur, started and developed MicroSolutions, a software company that was sold to CompuServe (a subsidiary of H&R Block) for $6 million. Cuban went on to start an Internet radio company, Broadcast.com, which was eventually sold to Yahoo.com for $5.9 billion in Yahoo! stock. Cuban didn't stop there as he expanded his portfolio with the co-founding of HDNet, the first high-definition satellite television network. Cuban has branched out of technology with his ownership of the 2011 NBA Champion Dallas Mavericks basketball team. As a Shark, Mark has invested in a variety of products including Hy-Conn, a fire hydrant tool, and Toygaroo, a toys by mail service.
These "Sharks" continue to spread their wealth on Shark Tank as well their views on business with speaking engagements and celebrity appearances around the country. Daymond and Mark have most recently participated in several events including a Shark Tank Watch Party in Orlando hosted by athlete marketing expert, Ryan Totka that consisted of Central Florida's top entrepreneurs and a "Meet the Sharks" speaking event at Babson College.
Written by: Anthony Fernandez
About CelebrityTalentPromotions.com
CelebrityTalentPromotions is a celebrity speakers bureau and booking agency securing thousands of business speakers, athletes, celebrity chefs, comedians and TV personalities for speaking engagements, corporate appearances, product endorsements, autograph signings, spokesperson campaigns, celebrity golf tournaments, VIP Meet & Greets and more.
CelebrityTalentPromotoions have assisted corporations in booking Mark Cuban, Daymond John and other TV personalities for speaking engagements, corporate appearances and VIP Meet & Greets.