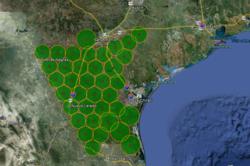 It is our goal that the Eagle Ford shale will be one big digital oilfield with TEN delivering the bandwidth."
Houston, TX (PRWEB) May 25, 2012
Texas Energy Network, LLC ("TEN" or the "Company"), a provider of next generation carrier-class communication services to the oil and natural gas industry, announced today it has purchased from Verizon Wireless lower 700 MHz A and B block wireless spectrum in the south Texas region known as the Eagle Ford shale. The wireless spectrum encompasses 28 counties, and will provide TEN with the ability to offer service over the entire Eagle Ford Shale play*. The transaction is not part of the spectrum sale process announced by Verizon Wireless on April 18, 2012.
The Eagle Ford shale is one of the hottest North American shale fields. According to a recent study, which was funded by industry group America's Natural Gas Alliance, from 2010 to 2011 crude oil production increased more than six-fold to over 28 million barrels and condensate production tripled to over 21 million barrels during that same time period. "The total number of recoverable reserves for the Eagle Ford shale is still unknown, but there are estimates that it could be as much as 7 to 10 billion barrels," said Thomas Tunstall, lead author of the study. "That would make it the largest on-shore oil reserve ever discovered in the Lower 48 states."
Gregory M. Casey, CEO and founder of TEN stated, "We are excited to acquire this spectrum because it will allow us to provide a much needed service to our customers who have been requesting improved communications services in the oilfield for some time. We intend to build-out our wireless coverage of the Eagle Ford shale region with a 4G LTE network as soon as possible to bring high-speed bandwidth to the region. It is our goal that the Eagle Ford shale will be one big digital oilfield with TEN delivering the bandwidth."
TEN, formed in 2010, is the first telecommunications company to provide 4G LTE wireless coverage onto oil and natural gas fields. The Company is currently building networks in both the Permian Basin and the Eagle Ford shale. For more information please visit TEN's website at http://www.texasenergynetwork.com

Spectrum consists of the lower B Block license for CMA 670, Texas–19, and all counties in the lower A Block license for the San Antonio EA (license #134) except the counties of Bexar, Comal and Guadalupe.