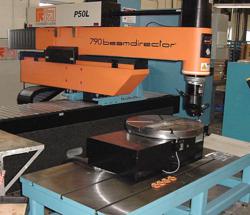 At EBTEC Corporation, we have been performing airflow testing for almost as long as we have been providing laser drilling and laser cutting services
Agawam, Ma (PRWEB) May 17, 2012
EBTEC Corporation has announced it has been recently approved by General Electric for Airflow Testing per Specification E50TF217. EBTEC joins only three other high energy beam service providers with this successful approval to the GE Airflow Specification - E50TF217.
Manufacturing components that contain many small diameter holes in aerospace materials can be a cumbersome and time-consuming task. Measuring and inspecting these holes can be even more cumbersome. Complex aerospace and ground-based turbine engines rely on special types of materials with small hole sizes, and hole population densities. Aerospace turbine engine products range from simple round parts with hundreds and often thousands of holes, to complex 5-axis geometries with small holes, or simple 2-axis flat sheet geometries with small holes, EBTEC provides an efficient, cost-effective solution to the hole drilling predicament with laser drilling services.
Original Equipment Manufacturers (OEM's) for aircraft and ground-based turbine engines have encountered this drilling and inspection problem. They have embraced laser drilling, and have created specific air flow inspection processes to accommodate. These inspection processes define a specific airflow for each part that has high populations of small holes, or is in the turbine engine's airflow path. The airflow inspection method provides inspection feedback to the drilling process which facilitates the control of the hole sizes. Highly-controlled and targeted airflow parameters allow the turbine engines to operate at defined design efficiencies, as well as maintain operational temperatures at each of the specific components of the engines.
The specifics of the airflow process are complex but simply may be defined as the "measurement of the difference in air pressure at the inlet side of an engine component and the exit side of the component". At a specified air pressure, the Delta "P" (change in pressure) from inlet to exit, allows the calculation of the amount of air flowing through the component. Other measurable attributes such as temperature, humidity, barometric pressure are accounted for in mathematical calculations allowing for an extremely precise measurement of airflow through a component.
"At EBTEC Corporation, we have been performing airflow testing for almost as long as we have been providing laser drilling and laser cutting services," said EBTEC Vice President Mark Hauser, "These airflow testing processes have matured along with the development of laser systems as machine tools. Maintaining cutting edge technology has been a core objective at EBTEC Corporation over the years. We have invested in capital equipment, and will continue to invest, as technologies for laser machine tools, laser technologies, and airflow technologies mature – this new approval allows us to provide additional capabilities to our valued customers", Hauser said. EBTEC supports 16 industrial lasers for laser drilling, laser cutting, and laser welding.
About EBTEC
EBTEC Corporation provides services and products to the Aerospace, Power Generation, Medical, Semi-conductor, Defense, and Commercial industries. High Energy Beam Services are defined as - Electron Beam Welding (EBW), Laser Drilling (LBD), Laser Cutting (LBC), Laser Welding (LBW), Abrasive Waterjet Cutting and Drilling (AWJ), EDM (Wire and Plunge) and conventional machining services. EBTEC Corporation also provides additional value-added services to our customers with make-to-print manufacturing services.