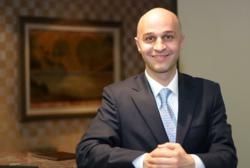 Overall, our goal is to break through location, treatment and economic barriers so every patient gets the care they need
San Francisco, CA (PRWEB) May 15, 2012
San Francisco dentist Dr. Samer Itani of Itani Dental is appearing on KRON 4 News today and throughout the upcoming months with segments about the in-home dental visits and sleep and sedation dentistry services that he offers to the Bay Area.
Sometimes patients have special needs or limitations that make visiting a dentist difficult, so Dr. Itani provides unique services such as house calls as a way to break down the barriers that keep patients from receiving quality dental care.
During the next segment airing, on Tuesday, May 15 at 8:45 pm, Dr. Itani explains his "Dentistry to Your Door" services that he provides to patients located within a 60 mile radius of his San Francisco office.
"Overall, our goal is to break through location, treatment and economic barriers so every patient gets the care they need," said Dr. Itani. "One way of doing this is by providing a full spectrum of dental services in our office, as well as in a patient's home or hospital."
With a dental hygienist and portable equipment, Dr. Itani is able to perform many services during his in-home visits, including general dentistry, exams, cleanings, digital x-rays, fillings, oral cancer screenings, removal of infected teeth and dentures. Candidates for in-home care range from the elderly who are homebound or in a nursing home, people who are in the hospital or wheelchair bound, patients who have special needs like cognitive or physical disorders, and patients who struggle with dental phobias.
Dr. Itani has worked with special care and special needs patients for over a decade, and has extensive experience with sedation dentistry, which he can also perform at a local hospital. His affiliations with California Pacific Medical Center (CPMC Sutter Health) and Kaiser Permanente in San Francisco and San Rafael allow him to use general anesthesia or intravenous (I.V) sedation at his office during sedation dentistry treatments.
Itani Dental also provides mobile dental screening for groups (senior centers, churches, residential centers), and delivers personalized assessments and coordination with case managers, caregivers and senior care facilities.
Dr. Itani will provide an example of an in-home dental visit in another segment, which will air on KRON 4 news on Monday, June 18 at 6:45 pm and show Dr. Itani working onsite at a patient's home.
For more information about Itani Dental's San Francisco dental services and in-home dental visits, call (415) 830-9631, visit http://www.itanidental.com, or stop by 450 Sutter Street, Suite 2318 in San Francisco, California. Become a fan of Itani Dental on Facebook at facebook.com/ItaniDentalSanFrancisco and follow them on Twitter @ItaniDental to stay up to date with the San Francisco dentist's latest offers, promotions, and news.
About Itani Dental
Itani Dental is a leading and experienced San Francisco dental practice specializing in the special needs and phobic niche of dentistry. For over 10 years, Itani Dental has offered cosmetic dentistry, dental implants, Invisalign braces, sedation dentistry, senior care dentistry, home care and house call dentistry and emergency dentist services in the San Francisco Bay Area.
Conveniently located downtown close to San Francisco public transportation, the wheelchair accessible dental office of Dr. Itani is fit for special needs patients and is constantly updated to the latest technology and standards of practice.
Dr. Itani offers sedation dentistry for San Francisco Bay Area patients with dental phobias and cognitive, developmental, or physical disabilities to ensure they receive the most predictable dental care possible. He also has 24-hour emergency, weekend, and evening dentist appointments available in the Bay Area.
The experienced and compassionate members of the Itani Dental staff speak Arabic, Bosnian, Czech, French, Spanish and Vietnamese to provide easy and straightforward communication with culturally diverse patients. Itani Dental accepts Aetna, Assurance, Anthem Blue Cross, Blue Shield, Cigna, Concordia, Delta Dental, Guardian, Humana, Metlife, and United Health Care Group dental insurance providers, but will work with patients to get out-of-network coverage.
To learn more about dental services provided by Itani Dental in San Francisco, or to schedule an appointment, call (415) 685-0011.