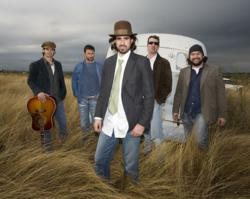 Cincinnati, OH (PRWEB) May 15, 2012
Since emerging as a favorite new live band out of Austin TX in the late 2000s, the Band of Heathens has toured relentlessly, building a devoted following and landing on some of the finest stages in music. Over three studio albums and hundreds of shows each year, they've evolved as a group and broadened their sound. Their most recent album Top Hat Crown & The Clapmaster's Son spiked the already potent punch with a dash of jammy psychedelia. And the rich and righteous vocal harmonies that set TBoH apart from the beginning have just gotten better.
General admission tickets, $12 ADV & $15 DOS (plus applicable fees), go on sale this Friday May 18 at 10 AM at http://www.ticketmaster.com, http://www.tafttheatre.org, the Taft Theatre Box Office and all Ticketmaster outlets including select Kroger stores. Charge by phone at 1.800.745.3000.
The Band of Heathens began 2012 with the first lineup change in 4 years with the departure of Colin Brooks. So going forward, songwriting frontmen Ed Jurdi and Gordy Quist are complimented by the rhythm section of drummer John Chipman, bassist Seth Whitney and keyboard player Trevor Nealon. With a growing resume of key shows and broadcasts to their credit, (Bonnaroo, Hardly Strictly Bluegrass, Lollapalooza, Austin City Limits TV Show and ACL Festival among them), the slightly rejiggered Band of Heathens has never enjoyed so much renown or optimism.
The band got its start in late 2005 when a group of likeminded songwriters established residency gigs on the same night of the week at Momo's, a club on Austin's famous Sixth Street. Friendship, sit-ins and harmony jags gelled into something quite rare: a band with multiple front-men, each with enough humility and passion to invest in the larger project. The sum transcended the parts, and very quickly, word spread about TBoH's special chemistry. The strong voices up front all played a role, whether as leaders or locked together in harmony.
The show's-the-thing focus led them down a somewhat unorthodox path: launching their recorded career with two live discs, "Live from Momo's" and "Live at Antone's," released in 2006 and 2007 respectively. The Heathens took their time getting their first studio album out, but when that eponymous debut was released in 2008, they proved they could write and record a coherent statement that measured up to their show. They followed relatively quickly with One Foot In The Ether toward the end of 2009. Both shot to the top of the Americana chart and remained there for months, a longevity rare in any format of music.
Currently TBoH is working on a four-disc, two-volume, live DVD release called the Double Down - Live in Denver (Vol. 1 & 2). The live DVD/CD set was recorded over two nights in October 2011 at Denver's Cervantes' Other Side. It features the band's live variations and extensions of original material mostly from their last two studio albums. The Band of Heathens has been honored as Best New Band at the Austin Music Awards, and has been nominated in various categories at the Americana Music Awards over the past few years. The Wall Street Journal's Jim Fusilli called theirs the best set at South By Southwest 2009. And the rest of the press has been equally effusive: The Dallas Morning News calls them "a must-see show." Maverick magazine says they're "magnificent." For The Chicago Tribune, the band felt "refreshingly different," and The New York Times called their show at Brooklyn's Union Hall "hungry, unflagging and lean."
The Band of Heathens continues to be distinguished by creative collaboration and their epic live shows, which have earned them a strong fan base of folks who appreciate improvisation and a good jam, but crave a great song. And while songwriting and vocal duties are chiefly handled by the guys at the front of the stage, they are decidedly a five man band, benefitting from the equal input of all. It is truly a band that needs to evolve to survive, and the fans have rewarded that growth at every turn.